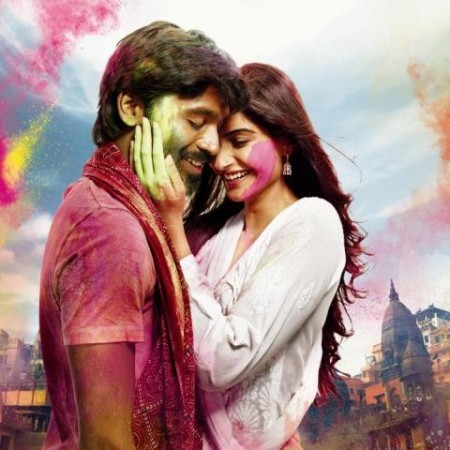 "Raanjhanaa", the romantic film starring Sonam Kapoor and south star Dhanush, has finally hit the screens in India.
The love story set in the backdrop of Varanasi is directed by Anand L Rai of "Tanu Weds Manu" fame and also features Abhay Deol, Swara Bhaskar and Zeeshan Ayub in important roles. The trailer and music, composed by double Academy Award Winner A R Rahman, has created a lot of curiosity among audiences.
The film marks the debut of Tamil film actor and Rajinikanth's son-in-law, Dhanush. It is about a Hindu boy Kundan (Dhanush) who is in love with his city Banaras and a Muslim girl, Zoya (Sonam Kapoor) from his school days.
The film has been appreciated by critics and Bollywood stars including Aamir Khan and Ranbir Kapoor.
Check out the critics review here:
Subhash K Jha of IANS writes: "This enormously-enriching film about the pain of love has four heroes: Dhanush, Sonam Kapoor, A R Rahman's music and the city of Varanasi. Not necessarily in that order. But then 'orderly conduct' is hardly a given in a film about raging unrequited love. It's a brilliant defiant moment defining the contradictions and savage ironies of romantic associations.
"Raanjhanaa tells us, it is not so cool to fall in love. Unless you're ready to slither on the ground for love, if the need arises.
"This is not love as we see it in today's day and age. It is the kind of adoration that Radha had for Krishna. In many ways Raanjhanaa is a gender-reversed take on the Radha-Krishna myth that takes the adoring heroine-worshipping Varanasi boy through some exceptional unacceptable circumstances.
"Raanjhanaa is a very simply-told story of a love so intense durable and destructive that it hurts. The inner turbulence, tumult and tensions of the central alliance evolves from the vibrancy of Varanasi, from each fluent note of Rahman's music, and from every pore of director Aanand Rai's transparent honest passionate treatment of that much-misunderstood emotion called love."
Saibal Chatterjee of NDTV writes: "Raanjhanaa, director Aanand L Rai's second film, not only averts the curse that often befalls a sophomore effort, it also actually turns out to be an improvement on the well-received Tanu Weds Manu. Raanjhanaa, scripted by Tanu Weds Manu writer Himanshu Sharma, is a love story with a huge difference that benefits no end from a clutch of exceptional performances.
"It builds the drama at a gentle pace, taking care to create the right kind of physical and psychological spaces for the characters to breathe and evolve in.
"Raanjhanaa gets somewhat weighed down in the second half as it factors into its plot many of the recent people's protests (anti-corruption, Bhatta Parsaul, the Nirbhaya gang rape) that have rocked Delhi.
"Dhanush slips effortlessly into the world of a happy-go-lucky boy who refuses to take no for an answer until it is too late. But it is to Sonam Kapoor that Raanjhanaa belongs. She delivers a rock-steady star turn, moving from innocence to cynicism and from demure to worldly wise in a smooth arc. However, Abhay Deol, in what is essentially a special appearance, seems somewhat miscast. He doesn't look like a college student."
Taran Adarsh of Bollywood Hungama writes: "RAANJHANAA manages to hook you with the atmospherics, but the ingenious narrative and worthy performances win you over gradually. The romance, the simplistic lines, the heartbreak... the film transports you to a different zone altogether. The dream-like world gives the impression of being pure and unadulterated initially, but this illusory world is soon shattered by reality [read corrupted by greed and power] as the plot thickens.
"The sole hiccup is that the film deviates in the middle of the second hour, when politics takes precedence, while romance takes a backseat.
"A.R. Rahman's musical score fits into the scenario admirably. The music -- the songs as well as the background score -- augment the impact on several occasions. The quality of music is supreme and each of the compositions has the distinctive Rahman stamp of uniqueness and exclusivity.
"On the whole, RAANJHANAA encompasses romance and myriad emotions most wonderfully, besides bravura performances and a popular musical score from the maestro. A film that touches the core of your heart. A film that's definitely worthy of a watch. Not to be missed!"
Meena Iyer of The Times of India writes: "Raanjhanaa is a love story that has a Shakespearean touch and is mounted on a lavish scale. Set in Benaras, in a sense, the heart of India, the first half in the vibrant city where the Ganges flows, just sweeps you off your feet with its colour and feel.
"All of a sudden, Raanjhanaa seems like two different films. In the first half, it is an interesting, intense, introspective love story, where you empathise with the characters. In the second half, the love story gets diluted to make way for gobbledygook political ideology that is an irritant.
"You may not like this film if you cannot digest brooding love stories."
Tushar Joshi of DNA writes: "Watch the film for Dhanush and Sonam's performances and some colourful one-liners and dialogues.
"Raanjhanaa joins the rank of recent love stories (Aashiqui 2, Yeh Jawani Hai Deewani) that take the unconventional path of approaching the genre by exposing the dark underbelly of romance through shades of loss, regret, remorse, and pain. Despite a colourful and vivacious beginning, the film ends up being weighed down by its heavy melodramatic second half.
"Raanjhanaa works because of Dhanush's ability to make you believe in his love for Zoya. You might not agree with his approach, but deep down you cheer and root for him each time Zoya plants a slap on his face."