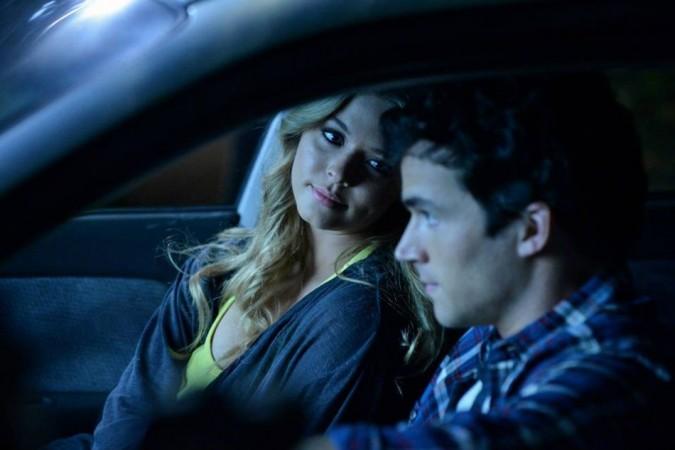 The season 4 finale of "Pretty Little Liars" is just a day away, and the promo of the upcoming episode indicates that the girls will finally come to know the identity of A. But spoilers indicate it is not going to deter A from tormenting the girls in the next season as well.
Alison is finally spilling the truth on what happened the night she disappeared. It is no secret that Alison and Ezra had some sort of a relationship before she was believed to have been murdered, and fans of the show will finally get to know the truth behind their relationship.
The promo also shows a flashback scene where Alison is sitting in a car with an annoyed-looking Ezra. Marlene King, the executive producer of the show, recently hinted that theirs was not a romantic relationship.
"The girls have really only been speculating on what that relationship was from the manuscript and the clues Alison left behind. The finale will reveal how and where they met, and what their relationship really was. … There's something that happens when they meet that makes it very interesting. You may be surprised by who the hunter was and who the hunted was," King was quoted as saying by TVLine.
Alison's return is also going to affect the girls individually and as a group, and King said that season 5 is going to be one of the most complex seasons.
It is believed that the life of one of the beloved characters will be put to great risk at the end of the season 4, and spoilers have even hinted a character's death. While promos of the episode show Hanna holding a gun, it is too soon to say if she is somehow responsible for the aforementioned death.
King also revealed that there is going to be an interesting Ezra-Aria twist in the story, and fans have started speculating that Aria might be pregnant.
In an earlier episode, Aria was seen patting her stomach and also talked about squeezing herself into a size 10.
I think Aria is pregnant. #PLL she was feeling her stomach, and she said she'd be lucky if she could squeeze out of the tent.

— Spencer Wajda (@swajda23) March 12, 2014
I think Aria's pregnant, am I the only one? #PLL — Marii (@MariiOlave) March 17, 2014
The season 4 finale of "Pretty Little Liars" will air on ABC Family on 18 March, while season 5 will premiere on 10 June.