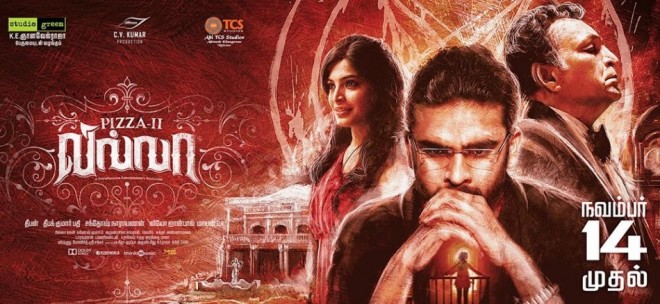 "Pizza 2":Villa" has opened to a good start at the Andhra Pradesh box office.
The Telugu version of "Pizza 2:Villa" released on 16 November, two days after the Tamil release. According to AndhraBoxOffice, "Pizza 2": Villa" opened to an average theatre occupancy of 60-70 percent (in AP's big cities) on the first day of its release.
The suspense thriller received positive reviews from critics and audience alike. Positive feedback is likely to help the film fare well in the coming days. The film will face strong competition from Telugu film "Masala", starring Venkatesh and Ram Pothineni. It remains to been seen if the thriller flick will be able to sustain its momentum and perform well.
Directed by debutant Deepan Chakravarthy, "Pizza 2":Villa" is about a writer who encounters strange happenings after he finds a map hidden in one of the mysterious paintings in the villa. The film is the second installment in the "Pizza" franchise. The first film titled "Pizza", starring Vijay Sethupathi and Remya Nambeesan in lead roles, was one of the biggest hits of 2012.
With "Pizza 2":Villa" getting positive reviews, the film may also turn out to be another hit. The horror story is expected to rake in decent collections for a few more days until Arya-Anuskha's "Varna" releases. The fantasy thriller is the Telugu version of the Tamil film "Irandam Ulagam".
The film is expected to have a big release worldwide including in Tamil Nadu and Andhra Pradesh. Theatre owners will accommodate more screens for the Anushka starrer, which in turn would reduce the screen count for other Tamil and Telugu releases including "Pizza 2":Villa", "Arrambam" and "Masala". This would affect the films' business in both states.