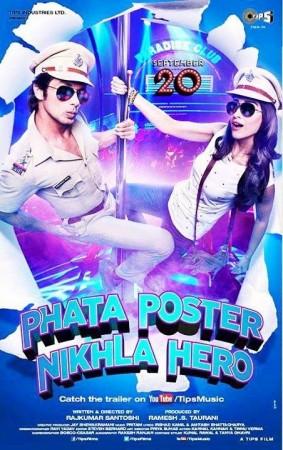 This week's big release "Phata Poster Nikla Hero" has received mixed reviews from critics. The film starring Shahid Kapoor and Ileana D'cruz has been panned for its messy storyline and half-baked characters.
The film, which falls in the genre of action comedy, is directed by Rajkumar Santoshi, who has earlier delivered hits like "Ghayal", "Andaz Apna Apna" and "Ajab Prem Ki Ghazab Kahani".
The film is about an aspiring actor, played by Shahid, who gets mistaken for a police officer.
"Dabanng" star Salman Khan is playing a cameo role in the film and model-actress Nargis Fakri has been roped in for an item song. The film also features Saurabh Shukla, yesteryear actress Padmini Kolhapure and Sanjay Mishra in supporting roles.
Check out the critics review here:
Simanthi Dey of Firstpost said: "The most fun moment in Phata Poster Nikla Hero is the one in which Salman Khan makes a cameo appearance. It lasts for just about two minute, which means for hours, you just sit there wondering what on earth you're watching. And then comes the film's climax, which will confuse the hell out of everyone who saw director Rajkumar Santoshi's last film, Ajab Prem Ki Ghazab Kahani because you think you've bought a ticket to see the Shahid Kapoor-Ileana D'Cruz starrer Phata Poster, but what's playing on screen seems to be from Ajab Prem. If Phata Poster is meant to be a comedy, it isn't funny. If it is an action film, then it's so last decade. What it definitely is, is a disappointment.
Sneha May Francis of Emirates 24/7 said: "Rajkumar, who dons many hats -of director and writer -- could've probably redeemed himself if he had exercised his moviemaking acumen and invested in a story instead of relying purely on a handful of dated jokes, a few pleasing tunes, a handsome bloke and a pretty woman. But, that's exactly what he does. In fact, he sticks to the formula that had surprisingly won him box-office (and critical acclaim) for his earlier blockbuster 'Ajab Prem Ki Ghazab Kahani'.
"Rajkumar banks on his winning strategy. He borrows famous dialogues from earlier hits, hires a sultry item girl, randomly ships his lovers to exotic locations for a soundtrack, and even gets Salman Khan to step in for applause.
"For a filmmaker who has made movies like 'Lajja', 'Damini', and 'Ghayal', this one is a let-down. And, with hints of a sequel for his classic comedy 'Andaz Apna Apna', we'd just hope it just doesn't end up in a mess, like this one."
Subhash K Jha of IANS said: "Let's get one thing straight. This isn't what you want to see a super-gifted filmmaker like Rajkumar Santoshi do when he gets together with a talented star-actor like Shahid Kapoor.
"Come to think of it, PPNH is not even an all-out zany comedy of errors like Santoshi's 'Andaz Apna Apna'. So what is it? After painful pondering over the over-punctuated parodic material in PPNH, I'd say it's a mongrelized mirth machine. A sort of "Dabangg" mated with Santoshi's last very successful comedy "Ajab Prem Ki Ghazab Kahani" which evidently taught Santoshi a lesson: farcical frivolity and lengthy titles translate into big bucks.
"If you think Shahid is one of the more interesting star-actor's of the current generation, then PPNH is a frenetically fashioned farce fest with excessive energy oozing out of every saturated pore. Shahid's songs and dances, especially the zanily unpredictable "Agal bagal" number are the highlight of the humour-hamper. "
Taran Adarsh of Bollywood Hungama said: "Let's get this straight! There's nothing in PHATA POSTER NIKHLA HERO that you haven't watched before. It has a standard theme, several clichés that you may have encountered in earlier films, but what works is the fact that the journey to the destination is full of amusement and entertainment. Although Santoshi has helmed comedies earlier, the humor in PHATA POSTER NIKHLA HERO is more unabashed, in your face, goofier and physical. The sole similarity between Santoshi's earlier works and this one is that the wit and humor is just hard to disregard.
"On the whole, PHATA POSTER NIKHLA HERO is an entertainer all the way. If you relished AJAB PREM KI GHAZAB KAHANI from the team of Taurani and Santoshi, chances are you will also lap up this vibrant, kaleidoscopic, light-hearted entertainer."
[Photos of Salman Khan's Family at 'Phata Poster Nikla Hero' Special Screening]