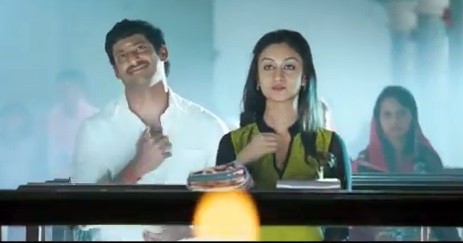 After "Samar", Vishal is back into action with "Pattathu Yaanai", directed by Boopathy Pandian.
This is the second time that Vishal and Boopathy have teamed up after their last venture "Malaikottai" which was released in 2007.
"Pattathu Yaanai", an action-comedy entertainer, has received mixed reviews from critics who have criticised the film for its poorly-written script.
Gouravam (Santhanam), a traditional cook, runs a catering business in Karaikudi. Gouravam is forced to take an order for a local goon's wedding, but is not happy about it. He gets assistance from Saravanan (Vishal) and his four friends, who join him as junior cooks. But they get into trouble and are forced to flee the place.
They reach Trichy, where Gouravam, Saravanan and his friends decide to start a hotel. Saravanan meets Aishwarya (Aishwarya Arjun) and falls in love at the first sight. There are two rival gangs in Trichy and one more villain joins them from Madurai. They are constantly at loggerheads with each other. Aishwarya's father faces trouble from the villain, whose ally falls in love with her. Saravanan, who appears as a meek character, takes a new avatar and bashes the baddies. What transformed the spineless man into a powerful hero? How does good win over evil? These questions are explained as the film progresses.
"Action King" Arjun's daughter Aishwarya has made her debut with "Pattathu Yaanai". The rest of the cast includes Mayilsamy, John Vijay, Patti Mandram Raja, Murali Sharma, Seetha and Jagan. Film's music is composed by S S Thaman.
Here is what the critics have to say
S Saraswathi of Rediff.com says, "Pattathu Yaanai is a disappointing half-hearted effort by both Pandian and Krishna. The film has a poorly written script and has neither the music nor the performances to carry it through. Only the comic elements in the film and Santhanam make it watchable."
Prashanth Reddy of desimartini.com says, "Pattathu Yaanai is an action-comedy at heart where momentary spurts of action are just a relief from what would have otherwise been a full-fledged comedy. The film makes more sense when you look at it as a comedy about the exploits of a bunch of wedding caterers who run from trouble and arrive in Tiruchy- only to find more trouble."
"But because of the film's "mass entertainer" aspirations, it brings in utterly unnecessary characters, like the heroine, who adds no value to the story, besides being heavily detrimental. In spite of it, the film still manages to entertain and how- thanks to the one man who has been consistently delivering time and again: Santhanam," he said.
According to Behindwoods Review Board, "Vishal has sincerely delivered what is expected from him. If you were to expect Vishal to showcase his six pack abs, you would be disappointed but the twist in the tale comes from the villain who removes his shirt to flaunt his chiseled torso. Action scenes though well choreographed, offers nothing new."
"Aishwarya Arjun looks emaciated but fits into her docile role. Pattathu Yaanai is an apt vehicle for the debutante and there is not much for her to demonstrate in the department of histrionics."
According to Indiaglitz.com, "Pattathu Yaanai' is the same old wine. If you have to consider the exclusion of Chennai city in the story, casting the heroine as a high school girl, instead of a college student and villain gang with a light sense of humour, then it is old wine in new bottle."