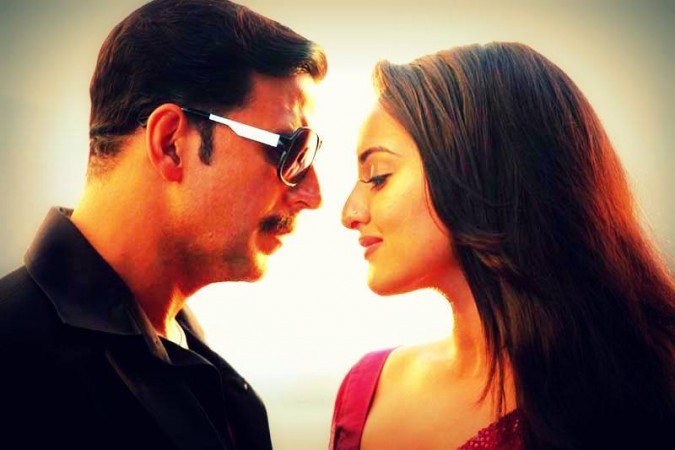 Latest Bollywood release, "Once Upon A Time In Mumbaai Dobaara" has been released on Independence Day across 2700 screens in India.
The crime thriller, which is a sequel to 2010 film of the same title, features Akshay Kumar, Sonakshi Sinha, Sonali Bendre and Imraan Khan in lead roles. Directed by Milan Luthria, the film has received mixed reviews from critics upon its release.
Check out the critics review here:
Mohar Basu of Koimoi.com said: "Milan Luthria's OUATIMD lacks the effervescence and naturalness of its prequel. The vibrancy of the script is diluted with hard-to-believe romance, minimal story; the film falters due to lack of action and the calamity that OUATIM reflected in abundance. This one isn't really a dull bore but fails to spark off the enigma of the former edition! Crime thrillers and love dramas shouldn't be mingled, it results in an insipid broth like this.
"This isn't another love triangle of ordinary people. There is a gangster in love here and the story fierce-s itself with the love, passion and obsession of its characters to win, along with the police on the hunt for the man who rules Dongri.
"There are very few euphoric moments in the film partly because of its lazy writing that is carried out rather shakily, and rest because it doesn't meet the standards set by its colossal predecessor. I can almost count the number of times I felt that ecstatic high inside me during the film. There are dialogues put in which make no sense and some are actually offensive to your gray cells without being remotely entertaining.
"Akshay Kumar is so sleazy that he will crack you up with his dialogue delivery. It is outright hilarious. Sonakshi Sinha goes wrong every time she is in a commercial film. There is only one solid scene that the director gave to actress Sonali Bendre and she was brilliant in it. Imran Khan is plain flat with nill emotions in his dialogues.
'Once Upon Ay Time in Mumbai Dobaara screams to Bollywood to do away with its ridiculous trend of Dobaara films simply coz this time the Dobaara was painful on its audience."
Rohit Vats of IBNLive said: "The film brings back the hit pair of director Milan Luthria and dialogue writer Rajat Arora after 'Once Upon A Time In Mumbai' and 'The Dirty Picture'. The trailers have given enough hints about the one liners featured in their latest venture. Bollywood's lucky mascot Sonakshi Sinha is also there and Imran Khan is also among one of the better known Hindi film actors.
"Rajat Arora is the other crowd puller of the film. #OUATIMD is all about punch lines. OUATIMD is high on style and Akshay Kumar is the highlight of the film. Imran, Sonakshi are average. Characters are irrational and without a good graph. The writer is responsible for it. Sonali Bendre has been seen in a film after a long time but she looks as beautiful as ever."
Raja Sen of Rediff.com said: "Now, having walked out of this new Milan Luthria film, I wish they had gone with the Twice Upon title -- if only because of how convenient it would be to call it T.W.A.T: The Movie.
"What is most upsetting is how the vital lines flounder the most: unrelated inanities pop up throughout, but it is when the script actually demands a line with some heft that there is none to be found. It is as if the writers copy-paste lines from railway station shayari books whenever they can, but at times of actual dramatic punch, nothing fits.
"Except, that is, Akshay Kumar. Kumar -- despite his preparation for this film consisting merely of picking out the right pair of sunglasses -- relishes playing villain. He says as much, too, in a rare good line about how the Hindi film hero only enjoys the final reel where things end happily while the baddie lives it up throughout the film.
"The film is constantly predictable -- just like the first film in the series -- but leans too heavily on a very hackneyed romantic angle. It isn't often one gets to say this about a Bollywood actioner, but a few more gunshots could have been nice. Kumar more than makes up for the lack of Devgn, but despite having a similar first name, Imran really can't match up to Emraan.
"In the film's finest scene, when there is an all-points bulletin for Shoaib's arrest, the gangster, fed up by the police, strides defiantly into a police station and is... well, utterly ignored as he stands there and walks out again. Typical. We never quite knew what to do with our stars."
Vishal Verma of India Glitz said: "Obviously Milan Lutharia and his writer Rajat Arora seem to have launched into this project backed by Balaji Motion Pictures with a faith in their own brilliance (Once Upon A Time In Mumbai, Dirty Picture) but call it laziness, arrogance or over confidence they both allow the squishy love triangle to take center stage in this sequel. Big mistake. Further the resurrection is disappointing, uninspired and boring that fails to salvage any pride on its own be it an underworld potboiler or as a relationship drama...
"Sadly Once Upon Ay Time In Mumbai Dobaara (their spelling not mine) makes you believe that the writers have absolutely no faith in their characters or their own ability to take this sequel to somewhere new.
"Akshay Kumar's bravado.. he is stunning.. his tone, accent, his look gives villainy in bollywood a new definition.. he is superb. Rajat Arora's dialogues are as usual catchy. Technicalities are fine. Sonakshi Sinha is likable. Sandeep Shirodkar background is really good.
"The original had moments, sequences both for Ajay and Emraan including their introduction.. here after the inspired introduction the movie fails to engage the viewer in any way because of its meandering and unfocused storylines labeling the movie as a needless sequel..To add more salt to the wounds Imran Khan is a misfit. His approach to the role is so casual."