In a country where religion is considered a fetish, a section of the society may find the recently released film "OMG Oh MY God!" hard to digest.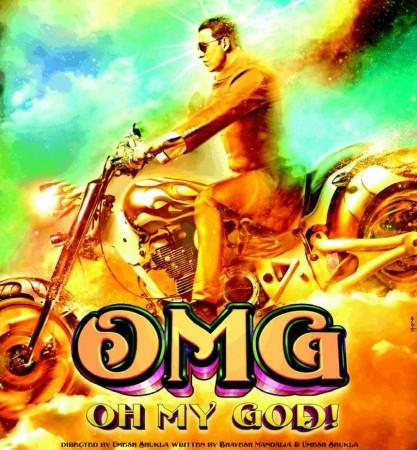 Paresh Rawal's "OMG Oh My God" is a direct mockery of the superstitious beliefs of society. The comedy does not exalt the divine, but is based on the proclaimed sons of the gods who make their living by exploiting fears of people with foolish notions of the higher powers.
"OMG Oh My God!" puts several faiths up for debate, though it is not the first movie to question the irregularities in religious practice of the country. The film tells a tale of a hard-core atheists and his transformation to genuine believer against all the false perspectives in religion.
The film was adapted from "Kanji Virrudh Kanji", a Guajarati play, which was organically inspired from 2001 Australian film - "The Man Who Sued the God".
The plot, casting and narrations of "OMG Oh My God!" make for a good thought-provoking movie. Rawal's performance as Kanji Bhai, an established non-believer in the gods, stands out throughout the run.
Kanji is always well-equipped with satirical views on religion, often irking the adherent "god-fearing" people.
All hell breaks loose after an insurance company refuses to sanction Kanji's claim on his shop, which was destroyed in an earthquake, supposedly sent down by the almighty himself to teach Kanji a lesson.
The insurance officer says that company is not liable to pay for the damages caused by "an act of the god" and his response shapes Kanji's course of action in the story with him moving the court to sue god.
Akshay Kumar plays a new-age Lord Krishna as Krishna Vasudev Yadav from Gokul, riding a super-bike, wears fancy tuxedoes and speaks English. He also uses laptops and is well tuned with Facebook.
Akshay shares a few lighter moments with Paresh Rawal's character, but fail to deliver knee-slapper jokes as achieved in their previous collaborations like "Hera Pheri". More often, both characters delve into serious thoughts and conversations.
Mithun Chakraborty leaves a mark in the movie as the head of a religious organization that loots people on the pre-text of God. His characterization has pitched the irony of a sanyasi's lifestyle that in today's world has all the sophisticated comforts starting from smartphones to posh cars.
Other supporting characters in the film helped build the plot to a rather paradox situation, in which people begin to worship an atheist as god.
"OMG Oh My God!" suggests different theories behind god. It conveys a message of keeping courage amid unrealistic religious views and suggests having genuine love for God rather than succumb to outrageous practises seen till date.
On a concluding note, "OMG Oh My God!" is not an anti-God tale but it based on the religious irregularities of the Indian society.
Director: Umesh Shukla
Star cast: Paresh Rawal, Akshay Kumar, Mithun Chakraborty, Govind Namdeo, Mahesh Manjrekar, Om Puri