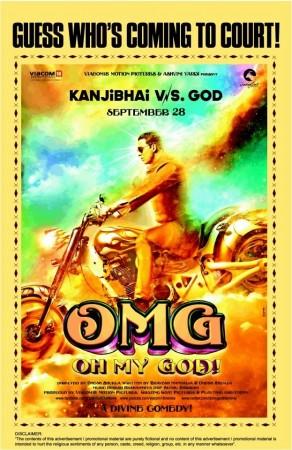 Akshay Kumar's next home production "Oh My God" is a divine comedy made without the intention of making money at the box office. The movie is inspired by a Gujarati play "Kanji Virrudh" and is directed by Umesh Shukla.
"'Oh My God' is not a film which I made to earn money. It's a film which I loved, enjoyed it because I enjoyed the play and what I learnt from the play, I just wanted to share with the audience and that is why I just made this film," Akshay was quoted saying by IANS.
"So there is no expectation from this film, whatever is going to happen. I'm sure people are going to enjoy because it's not a preachy thing. Paresh Rawal is not a baba, he is just having fun in the film and I am having fun, that's it," he added.
The movie will be a fun-filled entertainment and will have actress Sonkshi Sinha grooving to the item song "Go Go Govinda".
Akshay Kumar will play the lead role of modern day Lord Krishna. Though the film includes several religious elements, the movie will be a light comedy and not hurt one's religious ideals, the 45-year-old actor said.
The story revolves around an atheist whose antique shop gets destroyed in an earthquake. It also deals with unconventional happenings in day to day lives.
According to earlier reports, Akshay's mother had asked him to read the Bhagavad Gita before playing his character and the actor was said to have obliged. There were also reports that he even turned vegetarian and that he gifted several dozen copies of the Gita to the film's cast and the crew, Mid Day reported.
Other reports suggested that there may be a sequel to the Umesh Shukla-directed comedy.
"Yes, we are working on a sequel," Paresh said in an interview. As the film has been adapted from a play, the makers have made quite a few changes to make it more appealing," actor-producer Paresh Rawal said according to Press Trust of India.
"Oh My God", which is also co-produced by Akshay Kumar and Ashvini Yard, is all set to hit theatres on Sept 28.