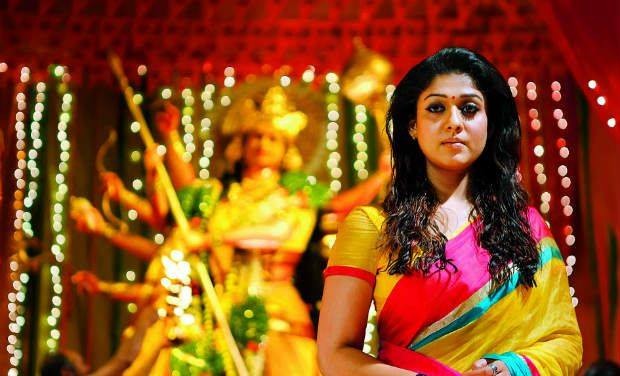 Nayanthara's "Nee Enge En Anbe", a thriller drama, has received positive reviews from critics.
"Nee Enge En Anbe" is not a scene-by-scene remake of Hindi film "Kahaani." The film's director Shekar Kammula has just adapted the basic plot from the original version and has made a lot of key changes to the content. For instance, Nayanthara does not play the role of a pregnant woman in "Nee Enge En Anbe," unlike the original version.
However, there is not many changes in the story as compared to "Kahaani." Anamika (Nayanthara), Tamil Brahmin, comes from the U.S to Hyderabad in search of her husband Ajay Swaminathan, whom she hasn't spoken to for more than two weeks. She takes help from a local policeman Sarathi (Vaibhav), who is also a Tamilian, to trace her husband as she doesn't know Telugu.
What happened to Ajay? Will Anamika trace him? These are answered as the film progresses towards the end.
Critics have appreciated director Shekar Kammula for bringing in some original touches although the film's story is similar to "Kahaani."
"In 'Nee Enge En Anbe', the director Sekhar Kammula has made key changes to the story and to his credit, he has invested a lot of original touches and hasn't brought any disgrace to the much celebrated original," says Behindwoods Review Board.
Critics have also lauded Nayanthara's performance and have called it as one of her best in her film career. The other actors including Vaibhav and Pasupathi (appears in the role of senior police officer Khan) fit in their parts as well, they say.
"Right from the beginning, Nayanthara's acting is commendable, the actress is very good at all sorts of emotions and "Nee Enge En Anbe" is surely one of her best performances till date," says S Rajasekar of Cinemalead.
"After Nayanathara, Pasupathi and Vaibhav are the other two actors who have done a great job, Pasupathi's dialects and emotions in the second half is a treat to watch and Vaibhav is the 'driving' factor in the first half of the film," he said.
On the technical aspects, critics have said that the film's music, cinematography and editing have been adequate. Sai Shyam of iflickz.com says, "Under Keeravani's music, the songs are used as montage numbers and none of them pop up as a needless dream number. The background score is functional and aids the visuals during tense moments, especially in the second half. Camera work just passes the muster as the lighting could have been better in few scenes. The scenes lack visual aesthetics and detailing."
There are a few drawbacks in "Nee Enge En Anbe." According to critics, the film's first half moves at a slow pace which might not appeal to the audience. Moreover, there are several Telugu dialogues in the film without any subtitles. Audience who do not know the language will find difficult to understand those portions, they said.
On the whole, the film is a decent thriller and one can watch it for Nayanthara's performance.
Verdict: Watch "Nee Enge En Anbe" for Nayanthara
(Ed:AJ)