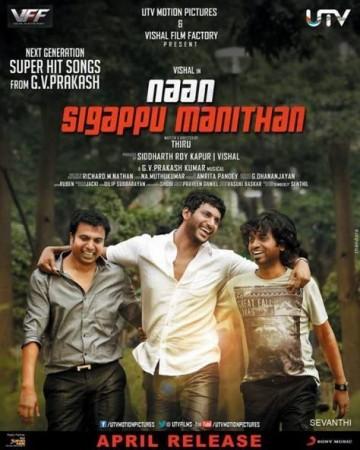 Vishal-Lakshmi Menon's "Naan Sigappu Manithan" (NSM) has received positive reviews from critics.
Directed by Thriu, "Naan Sigappu Manithan" is an action thriller film with narcolepsy as the premise of the film. Vishal appears in the role of a guy named Indran who suffers from narcolepsy, a rare sleeping disorder, which makes him fall asleep when he experiences any form of extreme emotion or happiness.
Indran has 10 specific desires to be fulfilled in his life. With the help of his friends (Jagan and Sundar Ramu) and a caring mother (Saranya Ponvannan), Indran fulfills his desires one after the other. He meets Meera (Lakshmi Menon) and they both fall in love with each other. However, Meera's father (Jayaparakash) is against their love as he feels that they could not lead a happy married life. But Meera decides to stand by her lover and support him to overcome his disorder. Unfortunately, she gets gangraped and how Indran identifies the culprits and take revenge on them forms the crux of the story.
Critics have appreciated director Thiru for coming up with an engaging screenplay. Vishal and Lakshmi Menon's performances have also won accolades from them. Some critics have commented Vishal's performance as his career's best.
Sify says, "NSM belongs to Vishal. He is in top form and gives a warm, sincere and mature performance, probably his career best. As a narcolepsy patient falling on the ground, asleep and agonising moments in the climax he nails the character with plenty of heartfelt emotions. And important point is that Vishal plays it right without punchlines or heroism and wins us over."
"The refreshing chemistry between Vishal and Lakshmi Menon catches your attention in the first half. Jagan has perfect comedy timing and his amazing ability to crack jokes with a straight face is commendable, while Saranya's mother-sentiments and humour is perfect entertainment," the website said.
On the technical front, Richard M.Nathan's cinematography received appreciation. Editing by Ruben seems to be good, but it could have been better in the second half, according to critics. Siddarth Srinivas of Cinemalead says, "Richard M.Nathan's camera catches hold of the happenings in lustrous fashion. He must be lauded for the use of handheld and rigged cameras at various places to provide a different angle. Editing by Ruben is good, although the second half could have been cut down a little to raise the level of excitement. Stunts are an important aspect for a film in this genre, and NSM scores well in that area."
Haricharan Pudipeddi of IANS tweets, "#NSM Logically does full justice to Narcolepsy in the story. Absolutely no complaints abt how this rare disorder was used in the narrative."
He further adds, "My only concern was the twist in the second half. It may or may not go down well with everybody. Nevertheless, a good effort."
Although "Naan Sigappu Manithan" seems to have some minor drawbacks such as violence, stretched sub-plot and bad placement of songs, the Vishal starrer still manages to work. Behindwoods Review Board says, "Despite minor moments where the script deviates from its USP, Naan Sigappu Manithan pulls through as a pretty tense drama that ticks the commercial requirements,"
Verdict: Gripping Action Thriller
Photo credit: Facebook
(ED: AJ)