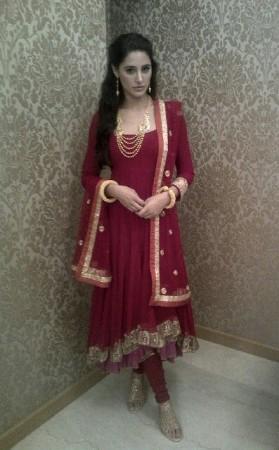 American born Indian actress, Nargis Fakhri, has revealed that she loves jewellery so much that she considers them as her best friends.
In a recent interview to Trans World Feature (TWF), Nargis who made her Bollywood debut with 2011 hit film "Rockstar" said, "My best friend is a white gold and diamond pendant."
Agreeing that all women are fond of Jewellery, Nargis said she is no exception and loves hand crafted jewelleries.
"All women love jewellery and I am not an exception. Jewellery is something we use to accentuate our beauty and it is important to complete an outfit, whether it's an Indian or western wear," TWF quoted Nargis as saying.
Nargis who attended the launch of a Gaja jewellery in Mumbai dressed in a bright red-gold anakarli, also added that she is not particular about any jewellery but would love to have all "pieces" to wear.
"Someday you want to wear earrings, someday you like to wear a neck piece or bangle or ring. So I don't think there is one particular piece that I must have. I must have all the pieces," TWF quoted as Nargis saying.
The 32-year-old actress also said that jewellery items are "great present" for both boys and girls.
When asked if she would buy jewellery for friends and family on special occasions, Nargis replied: "It doesn't have to be a birthday or a special holiday. You should just buy presents for everyone every day."
She also added that she would like to gift calflets to her "Rockstar" co-star Ranbir Kapoor.
"I don't know any of them so well that I can decide what to gift them that they will like. The only person I know well is Ranbir (Kapoor) and I will gift him calflets," she said.