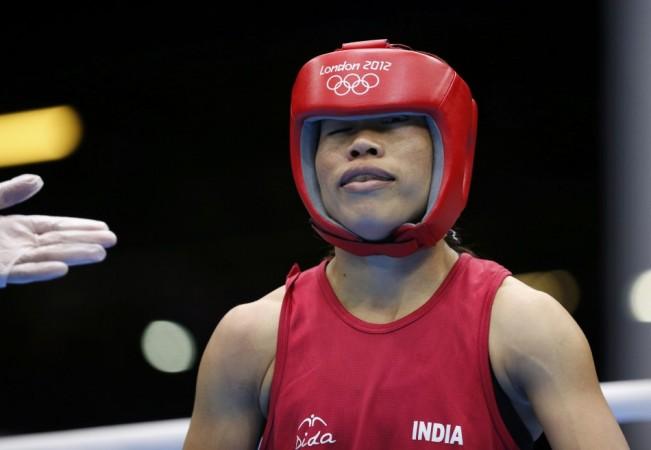 Megastar Amitabh Bachchan on Wednesday spoke to five-time World Boxing Champion MC Mary Kom who won bronze medal at London Olympics 2012.
On Wednesday, the 70-year-old actor spoke to Kom over phone after her semi final bout in the women's 51 kg category, in which she settled for bronze after losing to Nicola Adams of Great Britain from11-6.
Amitabh Bachchan tweeted: "My great honor and privilege to have spoken to Mary Kom earlier today on phone ..! What a lady !! You have made all of India proud !"
"Mary Kom you are a champion !! And loved and admired by all .."
He also took to his blog and said: "And while we talk of the past and present greats for the program, some achievements on the Olympic arena are having their own greatness."
"Mary Kom from Manipur in the Far East region of India has won her boxing bout against a difficult opponent and is now sure of at least winning a medal for the country."
"Mary Kom has had an amazing life and her story is such a fairy tale, it would be difficult to imagine what all she went through to get where she is today. A Mother of two, taking up Boxing for India and coming out victorious is nothing short of miraculous. How she lived in meagre circumstances and without any support from any sporting agencies, either private of State, she emerged through shear will power and love for boxing to be a medal winner in the London 2012 Olympics ... salutations and respect and a prayer for her to continue her victories in the days to come," he wrote.
However, a day before that, the actor irked people from northeast by tweeting on his microblogging site that Kom is from Assam.
"Mary Kom !! wins her boxing bout, insured a Bronze ! What a story ! A Mother of two from Assam, creates moment of pride for India !!" he tweeted.
"Mary Kom ! When she was at her prime, women's boxing was not introduced in Olympics ..!! Still, fighting her way today for a medal !"
But the actor didn't delete his tweet and instead quickly apologized on Twitter. "Sorry correction : Mary Kom is from Manipur, not Assam .. Apologies!!" he tweeted.