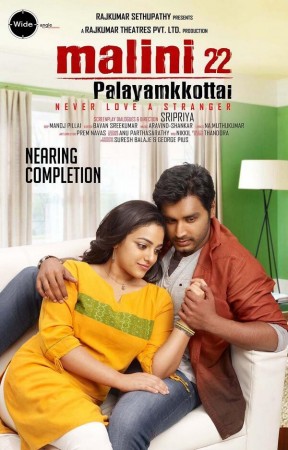 "Malini 22 Palayamkottai", directed by actress Sripriya, has received mixed reviews from critics.
The film is a revenge drama that highlights sexual assault against women.
Malini (Nithya Menen), a nurse from Palayamkottai, works in Chennai. She dreams of going to Canada to make it big in her life. Varun (Krish J Sathar) works for a consultancy service and helps her complete all the formalities. While Malini awaits for her visa, Varun tries to woo her and she in turn falls in love with him.
Malini stays at Varun's apartment, gets seduced by his charms, and they both get intimate. The next day, when Malini is alone, Varun's boss Prakash (Naresh) comes and rapes her. Varun vows to take revenge and convinces Malini that they relocate to Coimbatore. There she gets arrested for carrying illegal drugs and is lodged in prison. She finds out that Varun and his partner-in-crime Prakash have conspired to get her arrested. The rest of the story is about how she takes revenge against Varun and Prakash.
Here is the review roundup of "Malini 22 Palayamkottai"
S Saraswathi of Rediff says, "'Sripriya's Malini 22 Palayamkottai' deals with an extremely relevant issue of contemporary society. The film comes at a time when incidents of rape and violence against women seem to have become a common, everyday occurrence."
"The subject is well handled by Sripriya, but the film does get a bit dramatic in the end with poisonous cobras, and castration offered as a solution to this grave issue."
Sify says, "The areas that needed more focus have been handled with in a less serious way by director Sri Priya. The character of Malini itself is rather half-baked, with her nature fluctuating quite abruptly. At times she is naïve and gullible, and in latter half, her transformation into the bold and revenge-seeking girl is too fast and looks unconvincing."
According to Behindwoods Review Board, "The first half should have been made better, be it the nondescript scene transition or the pedestrian comedy doesn't help the movie. Also, the key element of the first half, romance, is short of the charm it needs for Malini and Varun, played by Krish, to be a couple worth spending our feelings for."
According to Indiaglitz, "A gripper script and convincing portrayal of the turn of events could have done much wonders. Yet this film deserves your time and money for its earnestness to urging the women to not give up at any point."
Verdict: Average Revenge Drama