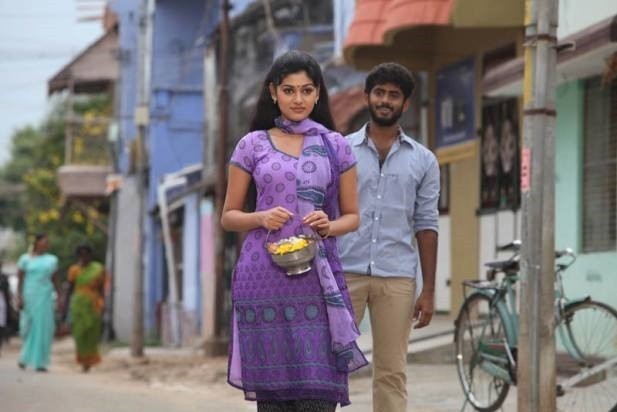 Tamil film "Madha Yaanai Koottam" (MYK), which released on 25 December, has received mixed reviews from critics.
"Madha Yaanai Koottam", a thriller film set in Madurai backdrop, is directed by Vikram Sugumaran. The film's story revolves around the two families of a respected village man and the hatred within the families.
The film stars newcomer Kathir and Oviya in lead roles. The other cast members include Jayaprakash, Viji Chandrasekhar and Vela Ramamoorthy. The film is produced by music composer G. V. Prakash Kumar and music is composed by N. R. Raghunanthan. Cinematography is handled by Ragul Dharuman, while editing is done by Kishore Te.
Here is the review round-up of "Madha Yaanai Koottam"
Behindwoods Review Board says, "The main factor that works against the movie is the lack of emotional connect for the audience with the narration. There are a plethora of characters and at the end, not many faces register in mind."
"Though MYK has a few tense and gripping sequences, the milieu is something which we have seen in plenty of celebrated movies in the recent past. And violent scenes, actions and language don't make it suitable for viewers of all ages. Still with all its drawbacks, Vikram Sugumaran's debut isn't a bad watch overall."
Indiaglitz says, "With importance to the vengeance story than the love tale, this movie is yet another in the league of Madurai-based action flicks, and a bold step forward by Vikram for an out-of-the-box story. Marking the debut for GV Prakash as producer, 'Madha Yaanai Koottam' is a heavy story, with intermediate dark comedy relief on a different genre of entertainment; the film, on the whole, is a commendable venture for the sort of trend in screenplay, it has taken initiative in."
Prashanth Reddy of desimartini says, "Despite a miscast lead, the completely disposable love story and missing a few beats near the end, "Madha Yaanai Koottam" is still mostly riveting. You have to hand it to the director for the kind of performances he has extracted from the terrific ensemble."
"The cinematography is one of the year's best (but they could have gone easy on those lens flares; even JJ Abrams would agree that they went overboard) and I have only good things to say about the editing," he says.
Verdict: Commendable Efforts by Director Vikram Sugumaran