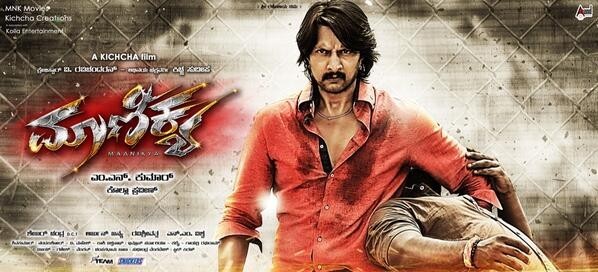 Sudeep-Ravichandran's "Maanikya" has received positive reviews from critics.
The action entertainer is a remake of Telugu film "Mirchi," though Sudeep has made changes to the script for Ravichandran's character. It has to be noted that Sudeep himself is the director of this film.
The film's story is about two warring families in Bidar, who want to kill each other. However, a scion of the one family wants to unite both the families. How he does that forms the crux of the story.
"Maanikya" has all the commercial elements including action, comedy, family drama and romance. Ranya and Varalakshmi appear as female lead roles, while other actors include Sharan, Nagshekar, 'Tennis' Krishna, Shobraj, Ravishankar, Ashok and Sadhu Kokila among others.
Here is the review roundup of "Maanikya"
Shyam Prasad S of Bangalore Mirror says, "The plot of the film matches its length. Though nearly three hours long, the narration and the twists keep the audience glued. Credit should go to director Sudeep for packing every available slot with good actors."
"Many lengthy films falter with at least a few miscast actors. But in "Maanikya," the entry of every new actor, which continues till the end, induces new life into the film. Sudeep has made sure that the entire focus is not just on him. Every actor gets his due and thus the film its fine tuning," he said.
Regarding the performances of Sudeep and Ravichandran, Sandesh of Oneindia says, "Ravi and Sudeep are just rocking be it in emotional or action scenes, they both will be the main highlight of the film."
Chitraloka says, "There are so many things in Maanikya but all of them are perfectly placed. It is a film you will love to watch in a cool big screen theatre. This is one film you should reserve a day for this week."
Verdict: Real treat for Sudeep, Ravichandran fans
Photo Credit: Twitter/Kichcha Sudeep
(Ed:AJ)