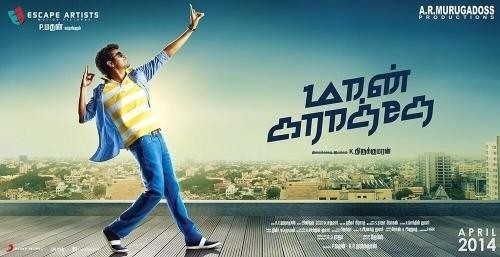 Sivakarthikeyan-Hansika's much-awaited film "Maan Karate" finally hit the screens on Friday (4 April). [Read "Maan Karate" Opening Weekend Collection HERE]
The fantasy, romantic entertainer has received mixed reviews from critics.
Sivakarthikeyan appears in the role of Peter from Royapuram, Chennai. He is in love with Yazhini (Hansika) and poses as a boxer to woo her, as she likes sports.
In a bid to prove his love for Yazhini, Peter has to win a boxing competition. Although Peter doesn't know how to box, he manages to win against his opponents with the help of a technique called "Maan Karate" ("Deer Karate"). Finally, he has to fight against the defending boxing champion who is also named Peter (Vamsi Krishna) and who wins the championship forms the crux of the story.
"Maan Karate" is a mixture of several elements including fantasy, romance, comedy and drama.
Critics have appreciated Sivakarthikeyan's performance in the film. They have also heaped praise on Sukumar's camera work and Anirudh's background scores.
While the film's first half is full of fun filled moments, the second half seems to be predictable. Critics have also said that director Thirukumaran could have worked harder on the screenplay to come up with a better product.
Here is the Review Roundup of "Maan Karate"
According to Behindwoods Review Board, "The film does provide quite a lot of fun in the first half with Sivakarthikeyan's typical antics, his mimicry attempts and his rollicking dance moves in the colourfully shot song sequences. The young man looks handsome in neatly fitting, trendy costumes and accessories, and looks the part as a dashing lead hero. The way he has improved his dance moves is unbelievable and there is an evident and effortless grace in his moves now."
"Hansika is pretty and cherubic as ever and looks gorgeous in the song and dance sequences. Other than that, she gets to be a loyal, unsuspecting and supporting girlfriend who stands by her guy," the website said.
According to Rajiv Menon of Desimartini, "Sivakarthikeyan is at his best as usual and manages to evoke laughter at regular intervals. But it's sad to see his potential going down the drain in characters where he has started to appear quite similar from film after film. But as an actor, he manages to deliver in whatever role he essays. Sathish manages to generate some laughter at regular intervals with his comical punch lines, while the rest of the cast falls flat."
According to Siddarth Srinivas of Cinemalead, "Sukumar's camera is one of the scoring points in the film, especially in the first ten minutes, where every frame is truly breath-taking. His lighting and camera placements in the song sequences and the climax is highly commendable. Editing could have been a touch crispier, as the second half drags around and could crop up with some trimming."
"Making use of AR Murugadoss' story, Thirukumaran could have worked harder on the screenplay to bring out a convincing product. Instead, we are led to a fun first half, which is followed by a highly predictable and cliché ridden second," he further said.