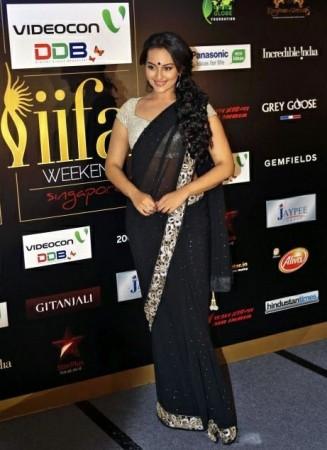 Bollywood actress Sonakshi Sinha, who surprised the audience with her performance in "Lootera", is happy that her hard work has paid off.
In an interview with The Indian Express, the 26-year-old actress said, "People have really liked the film. My decision to do the film (despite being advised against it by friends), the hard work and meeting the challenges of shooting have all paid off."
Directed by "Udaan" fame Vikramaditya Motwane, "Lootera" is a romantic drama set against the backdrop of 1950s. The male lead of the movie - Ranveer Singh played the role of a con man in it.
Sonakshi, who reprised the role of a Bengali girl named Pakhi suffering from asthma in "Lootera", went on to say that she found her character in the movie very challenging. "I am known to be this hatta katta girl with no history of illness - in short a picture of health. I had never seen a person getting an asthma attack before. To make my breathlessness look convincing, without veering towards the caricaturish or silly, was a huge challenge for me," she told the daily.
"Apart from that, I had to tune in with Ranveer and Vikramaditya's style of working. They both come from the same school of thought and believe in being thoroughly prepared before coming on the sets, while I prefer to be spontaneous," she added.
The "Lootera" girl started her Bollywood carreer opposite superstar Salman Khan in "Dabangg". Her role in the movie won her lots of accolades after which she was flooded with numerous offers. She has already worked in 10 films, of which five have been declared superhits.
Sonakshi's upcoming movie is "Once Upon A Time in Mumbai Dobaara" in which she shares screen space with Akshay Kumar and Emraan Khan. The movie will hit screens on 15 August, a week after the release of Shah Rukh Khan and Deepika Oadukone starrer "Chennai Express".
Sonakshi is presently hoping between the sets of Saif Ali Khan's "Bullet Raja" and Shahid Kapoor starrer "Rambo Rajkumar". She will also be seen in the hindi remake of Tamil blockbuster "Thupakki" opposite Akshay Kumar and has signed Telugu hit "Okkaduand" which will feature Arjun Kapoor in male lead. Although not much has been revealed, it is rumoured that Sonakshi will face the camera for her home production which will be produced by her brother.