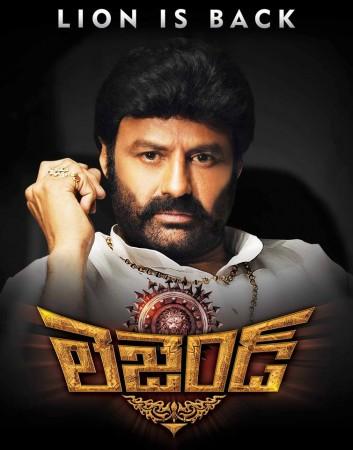 Actor Nandamuri Balakrishna's "Legend" has received positive reviews from critics. [Also Read: "Legend" First day Box Office Collections]
Expectations are sky high for "Legend" as Balakrishna has teamed up with director Boyapati Sreenu for the second time post the success of 2010-release "Simha."
The film, which hit the screens on Friday (28 March), has fetched decent feedback from the critics. Early reports also suggest that the fans are also impressed with the film, which marks the return of lion (Balakrishna) to the silver screen after a span of two years, when his last film was out in theatres.
"Legend" is a high voltage action entertainer with all the commercial elements neatly packed in it. The film has Balakrishna appearing in dual roles, while the other cast members include Sonal Chauhan, Radhika Apte, Jagapathi Babu and Brahmanandam among others.
Film's Story
Krishna (Balakrishna) lives in Dubai away from his family members in India. His grandmother does not want him to come to India and needs him to stay safely in Dubai. Krishna falls in love with Sneha (Sonal Chauhan) and comes to India to seek the blessings of his grandmother for their wedding.
Upon his arrival, Krishna, who fights against injustice, confronts Jitender's (Jagapathi Babu) son and ends up as his enemy. What follows next is shown with loads of action, powerful punch dialogues and sentiment scenes.
Critics have said that Balakrishna and Jagapathi Babu's performances, dialogues, powerful action sequences and emotionally charged scenes are the major highlights of the film. On the flip side, Brahmanandam's comedy appears to be unwarranted, critics say.
Too much violence and slightly slow first half are the other minus points in the film. Although there are a few drawbacks, the film on the whole is a complete commercial entertainer that is sure to impress Balakrishna fans.
Critics feel that the film's director Boyapati Sreenu has given a mass, masala entertainer with some sentimental touch that will appeal to both the classes and the masses.
According to Gulte, "Balakrishna fans will watch this film numerous times as it is undoubtedly the best from Nata Simha post "Simha." Boyapati Srinu lived up to the expectations and delivered a full on masala film that will work wonders at the box office especially in mass dominated areas. There is good sentimental touch to the film which will appeal to classes and families."
Excessive violence is the weak point of this film and it may restrict the reach. Saying that all, the biggest hits from Balakrishna had excessive violence and therefore it shouldn't be a big problem for "Legend."
According to Deccan Chronicle, "The talking point of the film is the effortless performance by Nandamuri, which is a combination of romantic action and a mass entertainer. The storyline has been used a lot earlier, but the director has managed to keep the audience hooked till the end. Fans of Nandamuri have a lot of reason to cheer about as the film looks very rich with great prodution values."
According to 123telugu, "Legend" has some explosive moments in the second half and powerful punch dialogues from Balakrishna. The film is a solid commercial entertainer that can do great business at the Box Office."
According to Andhrabxoffice, "Story is a Power Packed drama with lots of action & emotion. There is some good sentiment too. But the film has poor comedy making the 1st half a strictly okay affair. 1st Half starts off on a power packed note and is a bit dragged in the middle. And then picks up from the interval and is racy till pre-climax. Climax should have been handled a bit better, but still is adequate. Interval episode to and till climax, the film is in altogether different zone."
Verdict: Complete Commercial Entertainer