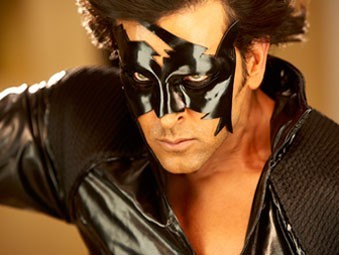 The hype around Hrithik Roshan's latest superhero film, "Krrish 3" has been so far so good with its first trailer receiving wonderful response from the people. Now, "Raghupati Raghav" song teaser, which was released on Monday (9 September), has gone viral.
The song teaser featuring Hrithik Roshan has received more than five lakh views in just two days with fans upbeat about the dance moves of their favourite actor.
Wearing a white shirt, a slim red neck tie and black pants, Hrithik Roshan dances with a horde of other dancers in the 16-second teaser. He has exposed his hot physique in the rocking party number composed by Rajesh Roshan and sung by Neeraj Shridhar, Monali Thakur and Bob.
If the first trailer of "Krrish 3" has Hrithik performing some hair-raising stunts, "Raghupati Raghav" song teaser has some mind-blowing dance movements, setting a new bar for his counterparts.
The first trailer of "Krrish 3" that was released a month ago has received over 15 million hits so far. The stunts in the trailer have set a new bar and the actor is expected to be seen in are-devil action sequences. Hrithik had earlier claimed at the launch of the previous trailer that "Krrish 3" would compete with Hollywood movies like "Iron Man 3" and "The Avengers".
Featuring Hrithik Roshan, Priyanka Chopra, Vivek Oberoi and Kangna Ranaut in the lead roles, "Krrish 3" is the third instalment of Krrish film series after "Koi... Mil Gaya" and "Krrish". It is produced and directed by Hrithik's father Rakesh Roshan and is scheduled for release on 4 November.
Watch "Raghupati Raghav" Song Teaser: