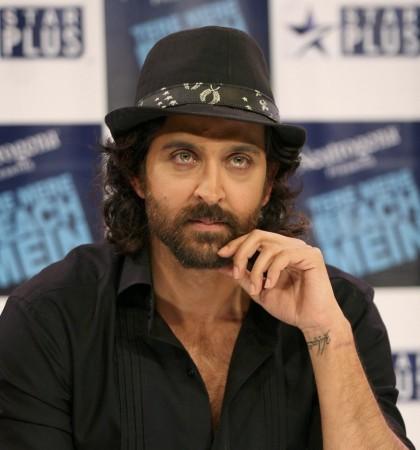 Bollywood actor Hrithik Roshan will appear in triple role in his upcoming superhero science fiction movie, "Krrish 3".
Confirming the reports of the actor's triple role, Hrithik's father and director of "Krrish 3" Rakesh Roshan said, "He (Hrithik) is playing Rohit the father and he also plays Krishna and Krrish. Yup, when he is the simpleton, he's Krishna and when he's the superman, he is Krrish."
"Krissh 3", which is currently in the post production stage, is said to be one of the most ambitious projects of the actor.
"It will take another six-seven months. It is my most ambitious project. I have worked very hard. I have put all my passion into this. You go to sleep with a satisfaction in your heart and wake up with a mind buzzing with ideas. November 1 is the release date. I hope everything comes out well," Hindustan Times quoted Hrithik as saying.
"Krrish 3" is the third edition of the 2003 blockbuster film "Koi... Mil Gaya" which was followed by its sequel "Krrish" in 2006.
"Koi... Mil Gaya" featured Hrithik Roshan, Rekha and Preity Zinta in the lead roles. In "Krrish", the lead cast of the Koi... Mil Gaya was retained except Preity Zinta. Priyanka Chopra was roped in for the female lead in "Krrish" which also starred Naseeruddin Shah.
"Krrish 3" will hit the screens this Diwali along with its 3D format.
Recently it was reported that the makers of "Krrish 3" had decided to make four cartoon films around Hrithik starrer superhero film, "Krrish" of which two will be released before Diwali and two after.
Rakesh Roshan reportedly decided to bring out the cartoon version of the movie ahead of the release of "Krrish 3" with the aim of refreshing the audience's memory about the superhero franchise.
"I am planning to unveil the first look in July when the first two cartoon films will go on air. I also want to spread the message of friendship and love through this series. My grandsons (Hrehaan and Hridhaan) loved the idea and are excited. The last film released six years and ago and a lot of kids were not even born then," Mid-Day quoted Rakesh Roshan as saying.