A new poster of Hrithik Roshan's superhero film "Krrish 3" has been unveiled with genetically modified characters like Cheetahwoman, Antman, Rhinoman and others.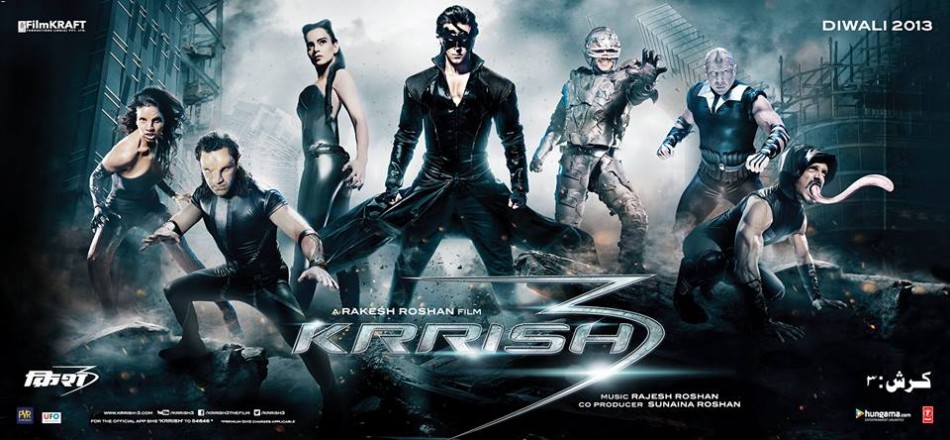 The latest poster has Hrithik as the masked superhero standing tall amidst his adversaries in a forlorn background.
The poster also features an alien-looking Kangana Ranaut as Kaya and Vivek Oberoi in a body suit for the role of Kaal. Along with them are Cheetahwoman, Antman, Rhino man and Striker with an elongated tongue, who resembles the character of Toad from X-Men films.
The new poster reaffirms the film's stance of being a venture for children with its set of fantasy characters.
Recently, actor Hrithik with father and filmmaker Rakesh Roshan launched an animated series of "Kid Krrish" for children.
Other than selling the film merchandise, the makers have been aggressively marketing the film online. There has been a tie up with the social networking site Facebook that publicised "Krrish 3" themed chat stickers. The social media site also hosted a live chat session with "Krrish 3" actor Hrithik after the first film poster was released.
"Krrish 3" makers have also collaborated with jewellery designer Farah Khan Ali, Hrithik's sister-in-law and the designer's official website will sell Krrish bands, Krrish mobile charms, Krrish pendants, chains, pins and Krrish power masks.
"The motivation behind it was Hrithik, who himself has overcome his personal obstacles to be a public figure and inspire people to achieve success irrespective of hurdles. We want people to wear these to give them strength, to give them courage to do the right thing in life. There is a Krrish in all of us." Farah told IANS.
"Krrish 3", the third sequel in the superhero series has met with overwhelming response since its first look and its trailer has fetched over 16 million views. The film is set for a festive release this Diwali.