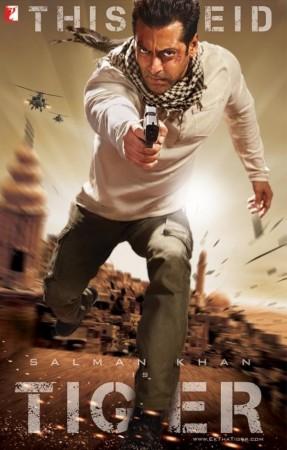 Salman Khan's romantic action thriller "Ek Tha Tiger" is doing a roaring business at both Indian as well as International box office, but Sajid Nadiawala feels that the movie did not show the real Sallu.
According to producer-turned-director, Salman's fans felt that they did not get enough of the superstar in "Ek Tha Tiger". But he promises that his directorial debut film will showcase some great moments about the actor in a way that audience will never forget.
Nadiawala, who has given out many hit films as producer, is now turning to directing movies. "I may have spent 25 years in the industry as a producer, but I feel like a debutant today," The Times of India quoted Nadiawala as saying.
The filmmaker also claimed that as a producer he only had to apply his brain but direction 'comes from the soul'. His old friend Salman is featured in the film as the lead character and presenting the superstar in a way his fans would want to see is not easy, The Times of India reported.
Still, the filmmaker is confident about with his upcoming directorial debut titled "Kick". "Ek Tha Tiger is one of the biggest grosser but Salman's fans felt they didn't get enough of the superstar. I wouldn't like to comment on someone else's film. But as far as Kick is concerned, I want to make sure it has some great moments for the audience to remember," he told TOI.
"Our journey together and the comfort level we share is important. Also, we have great chemistry, and that is something I want the audience to see through this film. This is my directorial debut, so I want to make it extra special for the people" he said.
Nadiawala feels that his decade old friendship with Salman will also help his film reach new heights. He has worked with Salman in more than 6 films and the first movie they worked together was 1996 movie "Jeet".
"Since Judwaa, which we made in 1996, he's been telling me I should direct a film. Of course, I wasn't ready then but that's never stopped him from suggesting it every now and then. When we decided to make Kick together, he brought it up once more. He told me that it was now or never to take the plunge," he told the leading daily.
Nadiawala has his own production company "Nadiadwala Grandson Entertainment" which rolled out several blockbuster hit. With Salman he has produced three hits including "Judwaa", "Har Dil Jo Pyar Karega" and "Mujhse Shaadi Karogi".