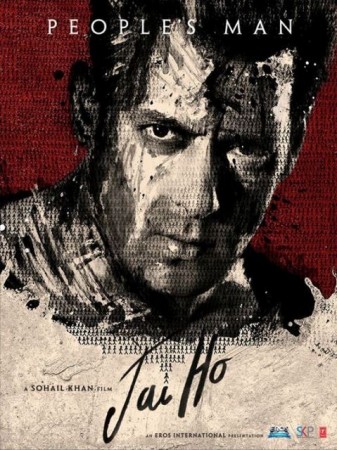 The trailer of Salman Khan's much-anticipated film, "Jai Ho" has been released.
True to Salman's trademark action masala flicks, the trailer of "Jai Ho" has the actor losing his cool when he encountered a powerful villain. The film also features Tabu, Daisy Shah and Sana Khan in the lead roles.
The trailer opens with the dialogue, "With good action at times comes an Evil Reaction." The first glimpse has veteran actor Danny Denzongpa in the role of a powerful politician and proceeds to actress Tabu, who plays Salman Khan's sister in the film.
Salman makes a lavish entry flaunting his iconic chained bracelet and is heard saying, "Aam Admi sota hua sher hai... jag gaya toh cheer phaad dega (A common man is a sleeping tiger, when provoked he will destroy all)."
The one-minute trailer is filled with ample action sequences, including smashing of cars, blasts, and fight scenes, as Salman takes on the villains single-handedly. The superstar is also seen riding a yellow sports bike.
The first look of "Jai Ho" is akin to Salman Khan's past films especially "Wanted" and is predominantly centered on the "good versus evil" theme. The film being a remake of Telugu hit film, "Stalin" starring Chiranjeev, has Salman in the role of an ex-army veteran and social crusader who faces all odds from corrupt officials.
The trailer released on Star Gold has created online frenzy, as hashtag #JaiHoTrailerTonight was trending on Twitter at the time of filing this story.
A teaser of Salman's silhouette swirling bracelet was released on Wednesday ahead of its trailer unveiling.
Directed by Sohail Khan, "Jai Ho" is slated for January 2014 release.
VIDEO: "Jai Ho" Official Trailer