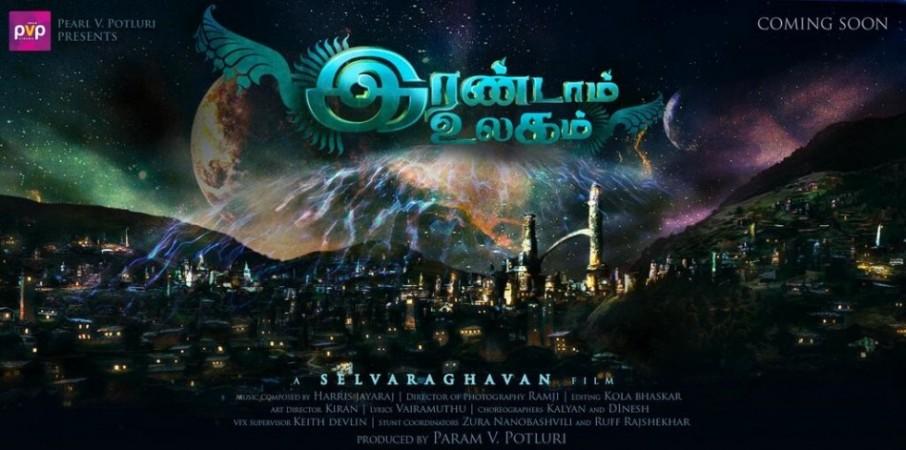 Arya-Anushka's "Irandam Ulagam" (Second World) has received mixed reviews from critics.
Directed by Selvaraghavan, "Irandam Ulagam" was one of the most-awaited films of 2013. The romantic fantasy film revolves around two love stories set in two parallel worlds - one is the real world and other is the fantasy world.
Arya appears in dual characters Madhu Balakrishnan (in real world) and Maruvan (in the fantasy world). While Madhu is a college professor, Maravan is a timid guy. Anushka also appears in two different characters - one of a medical college student Ramya and the other one as the high-spirited warrior Varna.
Critics have claimed that the film offers a visual treat, which is the main highlight of the fantasy love story. Cinematographer Ramji has won accolades from all quarters for doing a fantastic job. The performances of the lead actors have also come in for appreciation. Director Selvaraghavan, who has handled romantic stories in films like "Kadhal Kondein" and "7G Rainbow Colony", has once again come up with a love story in his unique style. The director has made the film with a lot of passion to provide a different experience for the audience, say the critics.
However, they feel that there needs to be more clarity on the film's narration. Since both the love stories move simultaneously, it might confuse the viewers, the critics believe.
Here is the review roundup of "Irandam Ulagam"
M Suganth of The Times of India says, "Irandam Ulagam is thematically closer to Darren Aronofsky's 'The Fountain.' Both these films dwell on themes of love and death; the lead actors play different characters in different worlds and are involved in a romantic affair; and finally, both are ambitious but ultimately maddening. And the reason for this failure is that Selvaraghavan seems to be undecided on the tone of the film - the Madhu-Ramya track has a comparatively serious tone while the Maravan-Varna episodes are campy."
"Given that these unfold as parallel tracks, it is disconcerting and we are unsure what to feel about the developments on screen. It doesn't help that Arya and Anushka lack the explosive chemistry this story demands. Both are generally comfortable in lover boy/ lover girl roles but here, they are called on to exhibit a bit more range and subtlety and come up short," he says.
S Saraswathi of rediff says, "Though a lot of effort and hard work has been put in by the entire team, the result is not quite what you expect."
"The film has an unreal fairytale-like quality that prevents us from feeling the intensity, passion and pain of the characters. It seems more like a child's bed-time story. Everything from the unique costumes, make-up and body language gives the film a storybook and dream-like quality."
According to Sify, "Irandam Ulagam is not everybody's cup of tea, but film is made with a lot of passion and sincerity. Chances are that you may find it an enjoyable journey if you get into Selvaraghavan's fantasy world."
According to Indiaglitz, "'Irandam Ulagam' is a complete experience. It doesn't have the usual high amounts of action, romance, comedy and masala as a normal Kollywood film would have; though it has all of it, everything is in moderation."
"A love story beyond one this world, the film is not a thoroughbred strictly Indian flavour, but is meant for the world audience at large. Savouring tastes of global interests, the film is a fair choice of being a multilingual international movie. In all 'Irandam Ulagam' is for the wise audience."
According to Behindwoods Review Board, "Irandam Ulagam, no doubt, is a movie made with lot of passion, courage and one which had demanded lot of effort from the filmmaking team."
"But Selvarghavan's idea of pure love may not necessarily find acceptance with everyone which results in the concept or the characters feeling emotionally detached from the audience. Also, the leisure paced screenplay and some character inconsistencies in the first half could add to the audience's restlessness."
Verdict: A brave attempt by Selvaraghavan, watch it to get the best visual experience.