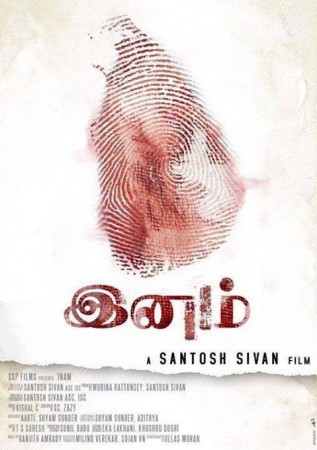 Santosh Sivan's "Inam" has fetched positive reviews from critics, who have termed it as a brilliantly-made film.
The film's story revolves around a group of children and teenagers living in an orphanage run by Tsunami Akka (Saritha) in North Sri Lanka.
The Santhosh Sivan directorial deals with the troubled relationships and the turmoils the orphans face as they journey through the Sri Lankan civil war.
The film has S Karan, Sugandha Ram, Karnas and Saritha in pivotal roles. Actor Arvind Swamy has given voice over in the film.
Critics have appreciated the performances of the film's cast; particularly, they heaped praise on Karan, the real-life teenager with a down syndrome, who appears as a 17-year-old special child Nandan in the film.
Santosh Sivan's cinematography, T S Suresh's editing and Vishal Chandrsekar's music have also received appreciation from the critics.
On the flip side, the film gives a documentary feel. The poor handling of Ezham dialect is one of the minus points in the film.
Although the film has a few shortcomings, it has earned positive response from the critics.
Here is the Review Roundup of "Inam"
According to Sify, "The film works mainly due to the perfect casting of characters, which makes story believable. Karan the real life teenager with down syndrome is aptly cast as Nandan. You can feel the wetness of his tears or get irritated by his pranks. Sugandhi Ram as Rajini is the real hero of the film and is simply outstanding."
"The supporting cast of Sarita, Karnas and all others have done a great job. The music, especially the background score of Vishal Chandrasekhar is in sync with the theme of the film. A major plus is TS Suresh's editing, it gives the film the required speed and the whole story is told under 2 hours."
According to Behindwoods Review Board, "Inam screams of technical brilliance and its greatest attraction is undoubtedly Santosh Sivan's cinematography, which has a silken edge and a meticulous craftsmanship. Every frame in the movie stands out for its superlative content, lighting and angle. It is his area and the cinematographer has not lost a single opportunity to revel in it."
Rajiv Menon of Desimartini says, "Inam" is a human story that tugs at your heart with a heartwarming narrative. A must watch for Sivan's fans."
According to Indiaglitz, "Tirupathi Brothers who have given so many hit films and having many interesting projects in the pipeline, should be highly appreciated for distributing this film without insisting on commercial compromises. Barring a few shortcomings "Inam" ends up as a much needed effort to uncover the truth on what happened to a Tamizh 'inam' (ethnicity) in the name of war."
Verdict: Heart-warming film supported by good performances