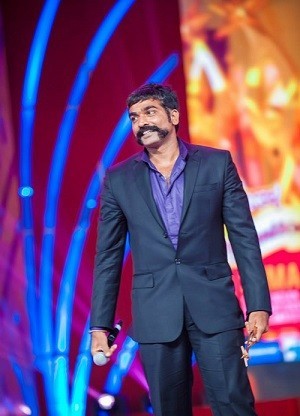 Vijay Sethupathi is back with his second release of the year - "Idharkuthane Aasaipattai Balakumara" ("Isn't this what you desired for, Balakumara?" ) - directed by Gokul of "Rowthiram" fame.
The actor is on a roll following three consecutive hits since last year. Vijay, who is known for his smart choices of films, has once again struck gold with "Idharkuthane Aasaipattai Balakumara" ("IAB"), a full-fledged humour riot that conveys a message to the youth. The film addresses the domestic issue of drinking with a good dose of comedy.
"IAB" revolves around five characters who cross each other's paths due to a incident that happens in a liquor joint. Vijay plays the role of Sumar Moonji Kumar, who has a drinking problem. He is in love with Kumudha (Nanditha), but she hates everything about him. The other cast members are Ashwin Kakumanu, who plays a salesman working in a private bank and is in love with Swathi in the film.
After a brief hiatus, actor Pasupathy makes a comeback to the silver screen with an important character. He plays a don who owns the liquor joint and is diabetic. Actors MS Bhaskar, "Pattimandram" Raja, Soori, VS Raghavan and Robot Shankar appear in supporting roles.
"IAB" has received positive response from film critics who have termed it as a fun film with some rib-cracking moments. Vijay, Pasupathy, MS Bhaskar and Ashwin have won accolades from critics for their performance in the film.
Here is the review roundup of "Idharkuthane Aasaipattai Balakumara":
Rajiv Menon of Desimartini says, "The humour is created with a purpose, born out of situations that unfold in the film, and therefore, you enjoy it more than comedy written solely for the purpose of entertainment. The twist in the second half comes as a surprise and it helps the film pick up momentum, while the first half is non-stop comical riot.
"Idhaba needs to be watched just for the fun of laughing, and amid all the entertainment you might also want to embrace its message."
According to Indo-Asian News Service, "IAB redefines craziness with its characters that never stop entertaining us. Most of the humour comes from the most unexpected characters such as the one that helps Kumar and his sidekick find liquor in the middle of the night in the most unexpected place."
According to Behindwoods Review Board, "Though IAB joins the list of numerous comedy films this year, the treatment and detailing is different if noticed closely. The first half takes its time to settle down with the characters, but at the same time there is slight experimentation with character-comedy and elaborately drawn out gags."
Indiaglitz says, "Director Gokul has conveyed rather an elusive message through a fun packed movie which through the first half traverses quickly and shrugs in the second. The harmful effect of drinking and aftermath is a simple message conveyed with the help of Madhan's fun filled dialogues. With a bunch of heartwarming moments and sweet touches here and there, Gokul is here to stay."
Verdict: Rollicking comedy with a good message. Go for it.