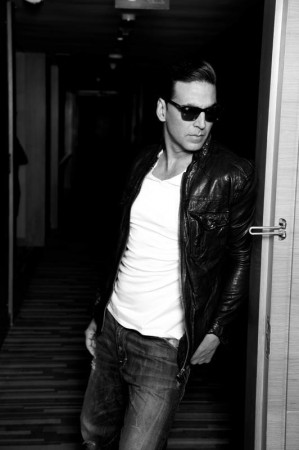 Bollywood actor Akshay Kumar revealed that he has highest regard and respect for his alleged rival Shah Rukh Khan.
Speaking about his equation with Shah Rukh, the "Once Upon A Time In Mumbaai Dobara" (OUATIMD) actor said, "I have the highest regard and respect for Shah Rukh. And honestly, I don't worry about people pitting us against each other. Over the years, I have been pitted against other Khans - Aamir, Salman and SRK. More than anything else, I take it as a big compliment," Hindustan Times reported.
Akshay's "Once Upon A Time In Mumbaai Dobara" (OUATIMD), a sequel to 2010 release with the same title, was set to hit the screens on 8 August along with Shah Rukh's "Chennai Express".
When asked why the release of the film was postponed Akshay said, "As an actor, I don't decide release dates. I'm not the producer of the film. So I think all such queries should be directed to Balaji (Motion Pictures). Personally, I feel that they have done a fabulous job in marketing and releasing all their films till date, so I'm sure they know best."
The 45-year-old actor went on to say that does not have any intention to compete with the Rohit Shetty directorial "Chennai Express". "I don't believe in competing with anyone else or other films. I only compete with myself. To put things in perspective, I run my own race. I have no desire to play the game better than anyone else. I only play it my way," he said.
Going into the details of his character Akshay said, "It is probably the most self-absorbing role in my career. It's every actor's dream to be a gangster, but to play a gangster from the '80s has been a powerful adventure. I enjoyed every single day of my schedule. I never thought the day would come when the intensity of my role would thrill me so much. But I haven't lost my funny bone yet."
Set to hit screens on 15 August, "Once Upon A Time In Mumbaai Dobara" is directed by Milan Luthria and produced by Exta Kapoor.