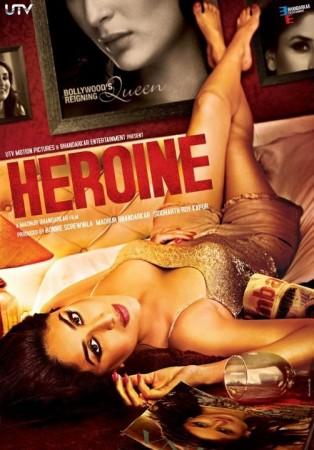 Every heroine, be it in Bollywood or Hollywood, has three similar qualities - 'moody, sankee (cranky) and over emotional', said the opening lines of the much-awaited trailer of "Heroine".
Director Madhur Bhandarkar officially released the first trailer of the film on Wednesday evening, and posted the link of the teaser on micro-blogging site Twitter.
"Here's the #Heroine trailer. Explosive and uncensored!" he tweeted.
Rated "A" by the censor board, the theatrical promo is uncensored and involved obscene words and cigarette smoking scenes, which will be tweaked for the U/A television trailers.
Besides that, the promo also gave a sneak peak of Kareena's sensual scenes with Arjun Rampal and Randeep Hodda, who play the role of an actor and cricketer in the movie respectively.
With peppy hot dance numbers like "Halkat Jawani", a strong reality-based storyline, brilliant star cast and crispy bold dialogues, the film is likely to draw audiences in huge numbers to theatres, when it releases on Sept 21.
The promo released on Wednesday fetched over 91,000 video views in just two hours into its launch. The figure have easily surpassed the 100,000 benchmark on UTV Motion Pictures's YouTube channel.
"Thank you all for the encouraging response to the promo of Heroine. Really feels nice to get a positive start to the promotion campaign," the director tweeted.
Lead actress Kareena Kapoor, who earlier described her character in the film as "bipolar" and "schizophrenic," essayed the role of an "edgy, bold and aggressive" Bollywood film actress Mahi Arora.
This reality-inspired film is reportedly based on the life of movie stars in today's world of Bollywood. Director Madhur Bhandarkar insisted that the film is not inspired from any particular person or instance in the industry.
"I am not saying it is not inspired by Bollywood or Hollywood. There is inspiration. But it is difficult to pinpoint one particular person," Bhandarkar said at the trailer launch of the film.
"I did meet several people from the industry for this film...I interacted with them. I wanted to show today's film industry....the industry of 2012," he said.
"It is a fictitious film...it is not based on anyone as such. I am not portraying a role of anyone...I have not followed anyone for this role," Kareena Kapoor said.
The film also features 'Fashion' fame Mughda Godse, Divya Dutta and Shana Goswami in key roles.
Check out the exclusive trailer here: