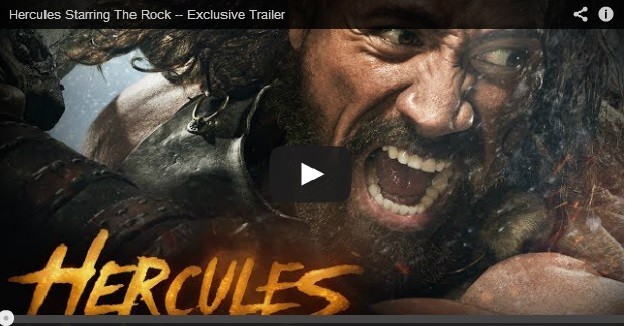 Dwayne 'The Rock' Johnson is all set to return to the big screen with a roar. After all, he is now Hercules - the famous Greek hero!
We all know the story of Hercules, who was the son of Zeus (Roman equivalent of Jupiter) and the mortal Alcmene. As in the classical mythology, Hercules is famous for his strength, scary demeanor and for his numerous far-ranging adventures. And the movie trailer of "Hercules" tends to give no less of a resounding adventure-packed thrill for the movie-goers.
The teaser is quite far from a history lesson as the roars and snarls of beasts, mixed with battles and blood will give us every reason possible to be cornered with fear and terror in the theatres. But amid all the chaos, The Rock remains at the helm of the film.
"The only thing more intense than the blasting sound effects in today's brand new released Hercules trailer is The Rock," notes the Hollywood Life. "Yes, Dwayne "The Rock" Jonhson is Hercules, and he's massively strong, extremely loud and pretty much fits the bill of the legendary God perfectly."
The Internet Movie Database (IMDb) aptly describes what the movie will be about. "Having enduring his legendary twelve labors, Hercules, the Greek demigod, has his life as a sword-for-hire tested when the King of Thrace and his daughter seek his aid in defeating a tyrannical warlord."
The trailer indeed gives us a sneak peak into his tasking adventures and the scary hurdles he faces on his way to defeat the 'tyrannical warlord'.
The trailer reminds viewers that "Before he was a legend, he was a man", so we know the blockbuster - set to be released on 25 July - will showcase Hercules in his pre-God phase. Yet, it would be preposterous to imagine that he would be any less mighty in the film.
The trailer begins with a concentrated and intense voiceover: "No matter how far you go, man cannot escape his fate." It continues to speak to the gallant and robust hero Hercules, asking him: "Who are you? Are you a murderer? Are you a mercenary who turns his back on the innocent? We believe in you. We have faith in you. Remember the deeds you have preformed."
The next minute shows a huge sea monster with many heads, a gigantic roaring lion, multiple other beasts and a spate of battles, with blood strewn ceaselessly till the end.
And after all that, who emerges gallantly with a smug grin? You guessed it right - Hercules!