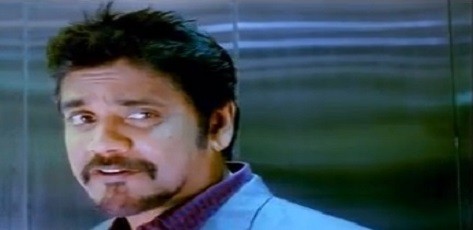 Actor Nagarjuna's latest film "Greeku Veerudu" has received mixed reviews from film critics.
Director Dasaradh and Nagarjuna have teamed up more than 10 years after "Santosham" was released in 2002. "Greeku Veerudu", a family drama, has Nayantara as the female lead. The rest of the star cast includes Meera Chopra, K. Vishwanath, Brahmanandam, Kota Srinivasa Rao and Ashish Vidyarthi.
Chandu (Nagarjuna) is an NRI businessman who runs a successful event management company in the United States. His parents die when he is young and his mother tells him not to get into any serious relationship to avoid heartbreak. He lives in the US with no connection to his extended family in India.
Chandu lands in a financial soup when his assistant Maya (Meera) stirs up legal troubles as a revenge against him for dumping her. He has to repay the money to PR (Ashish) within a month or else he would end up going to jail. The hero gets a call from his extended family asking him to come to India. Realising that his family has huge amounts of money, he decides to visit them. On his flight back to India, Chandu meets Sandhya (Nayanthara), a doctor who works as a volunteer with the "Make A Wish" foundation.
He tries to woo her and they both become friends. Upon landing in India, Chandu's grandparents mistake Sandhya as his wife. To make them happy and get hold of the fortune, Chandu asks Sandhya to pretend to be his wife and she agrees. Chandu bonds with his grandparents, uncles and aunts, during which he begins to understand the true value of relationships.
The lead stars' - Nagarjuna and Nayantara - performance has won accolades from critics. The actor, who is 53 years old, looks ageless on screen. Nayantara looks apt for the role. Comedians M S Narayana and Brahmanandam have done well in injecting humour in several scenes.
Here is what the critics had to say about the film:
Sangeetha Devi Dundoo of The Hindu said, "Just as masala entertainers abide by a formula, there's an unsaid formula that govern family entertainers. A crisis, a hero who stands up for his family against all odds, a handful of characters designed to make you laugh and a little something for the children. Weave all this together around a love story and you have a film that will end with a picture of a happy family. Greeku Veerudu mostly follows this route."
Karthik Pasupulate of The Times of India said, "It's feels like the filmmaker took the scripts of Manmadhudu and Mr Perfect and put them in a blender to come-up with this script. Unfortunately, the scripts didn't mix well enough and the cocktail falls flat. Never, ever give up on relationships is the message this film gives out.
"Our protagonist Chandu loses his father very early in life and seeing his mother's agony in dealing with the loss, he jumps to the conclusion that it's best to live light, without worrying about relationships. All he cares about is pleasure and he seeks out women with full gusto."
According to Telugucinema.com, "Nagarjuna is quite good looking, the seasoned actor carries off the role well. His chemistry with Nayanatara is equally nice. Nayanatara looks beautiful in trendy costumes as well as in designer sarees. Vishwanath as grandfather brings dignity to the movie. His role is similar to that of Akkineni's in 'Seetarammaya Gaari Manavaralu'. Sudha makes her presence felt. Brahmanandam and M S Narayana's comedy scenes are irritating. There are plenty of actors but none makes impact."
According to Indiaglitz.com, "To be fair to Dasarath, his treatment of the subject is mature and the dialogues work at several places. He deserves a pat on the back for meticulously planning Nag's expressions.
"It is a decent entertainer for the family audience, who give two hoots even if it is a been-there-done-that film. But the only way the film could have looked engaging for the youth, is by having an imaginative comedy track."
According to B.V.S. Prakash of Deccan Chronicle, "Of the cast Brahmanandam, Ashish Vidyarthi and Vennela Kishore evoke a few laughs that come as a relief. Nayan puts up a decent performance.
"But it is Nagarjuna's film. He looks younger and more agile and does some intricate dance moves. But the hackneyed plot and the protagonist's change of heart is just as unconvincing. The film fails to hold interest and might attract only die-hard Nagarjuna fans if at all."