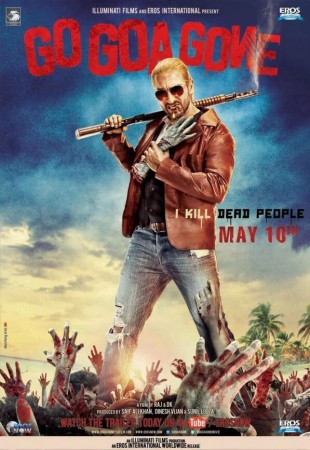 This Friday (10 May) two of Bollywood's most-anticipated films - "Go Goa Gone" and "Gippi" will hit the screens.
"Go Goa Gone" and "Gippi" belong to two different genres. While "Go Goa Gone" is a zom-com entertainer, "Gippi" is a children entertainer.
Go Goa Gone
Saif Ali Khan starrer "Go Goa Gone" is touted as Bollywood's first zombie-comedy film. Co-directed by Raj Nidimoru and Krishna DK, "Go Goa Gone" has Kunal Khemu, Vir Das, Anand Tiwary and Puja Gupta.
Saif Ali Khan appears in a supporting role in the zom-com entertainer. Unlike his stylish look in his previous film "Race 2", the actor will sporting a blonde look and several tattoos as he plays the role of Indo-Russian mafioso Boris - a zombie hunter.
"I loved Boris from the first time I discovered him. He is tough and cool, but also very funny. He has a good heart and is brave. The dynamics between him and the boys is hysterical. I was very excited to play Boris the zombie hunter and even happier to produce this film," a leading daily quoted Saif as saying earlier.
Hardik (Kunal Khemu) and Luv (Vir Das) join their friend Bunny (Anand Tiwari) on his business trip to Goa. Luv meets the free-spirited Luna (Puja Gupta) who invites him as well as his friends for an exclusive underground rave party on a remote island hosted by Boris. But the island does not seem right and when the friends realise that they are accosted by zombies, then begins their nightmares.
The first look poster and trailer of "Go Goa Gone" have already generated a lot of buzz among moviegoers. But it is yet to be seen if the film would be able to live up to the expectations of the audience.
Gippi
"Gippi" revolves around the life of a 13-year-old girl and the twists and turns her adolescent life. Delhi-based Riya Vij plays the main character of Gippi.
Gippi lives in Simla with her mother Pappi and little brother Booboo. The film deals with emotional and social changes in the life of Gippi, who is overweight and is always bullied at school. She also has to deal with living in a broken home. How she manages to emerge at the top of her own world is shown as the film progresses, according to Bollywood Hungama.
Sonam Nair makes debuts as director with "Gippi". The film is produced by Karan Johar under his banner Dharma Productions. This is the first time that a women director has been roped in to direct a film for Karan's production house.
Speaking about the film to Glamsham, Sonam said, "'My first film GIPPI is quite influenced by my own life. Nearly 60-70 % of it is inspired from my life. The plot didn't happen to me but I did come across similar incidents and characters. And I think every teenager will relate with it."
Besides Riya Vij, the film's star cast includes Taaha Shah, Divya Dutta and Jayati Modi.
With two interesting, different genres of films releasing this Friday, it will soon be known if they would be able to sustain the hype and make it big at the box office.