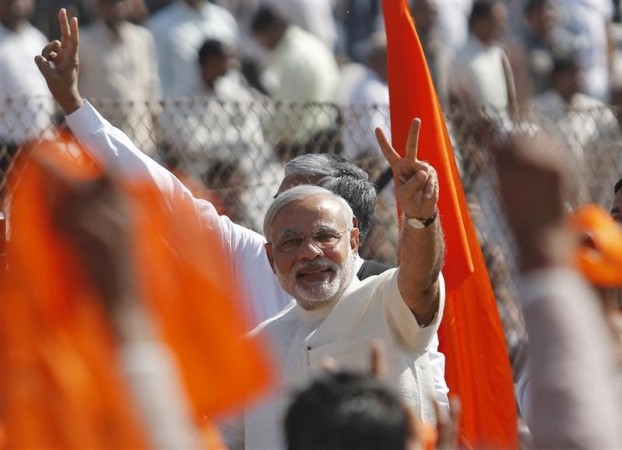 Gujarat Chief Minister Narendra Modi brought to fore several regional issues during his first rally after being elevated as the chief to BJP's election campaign in Madhopur, Punjab.
On the death anniversary of Dr Shyama Prasad Mukherjee, Modi accused the Congress of not recognising martyrs like Mukherjee. "Dr Mukherjee always stressed on a good standard of an education system. He dreamt of universities that would help in national regeneration," Modi said at the rally in the tinsel town of Pathankot. This year, not even a single educational institute of India was ranked among the top 100 institutes of the world.
He also brought to attention the increasing number of unemployment that is gripping the Indian youth today.
"Since past 9 yrs of its rule at the centre, both the UPA and UPA 2 hasn't been able to employee even half of what Atal ji (Atal Bihari Vajpayee) was able to during his tenure," Modi said.
Targeting Congress, Modi summoned Mukherjee's example to prove how a dual leadership at the central government cannot work in the favour of the nation's development. Moreover, he pointed towards the crippling centre, as evident when soldiers were beheaded at the LOC (Line of Control) in January this year.
"I want to ask the Prime Minister what did he do when Sarabjit was killed? What are our views on national security?" he said.
His first rally sounded straight from a competitor's mouth that is ready to snatch away the trophy. Modi specifically targeted Indian youth and problems faced by them seeing his popularity amongst them, especially on social media.
Where Rahul Gandhi, the supposed face of Congress for 2014 elections, does a disappearing act from the disaster in Uttarakhand, Modi brought attention towards the victims of Uttarakhand floods. "Just as Dr Mukherjee served the victims of 1943 Bengal famine, Nation will stand shoulder to shoulder with Uttarakhand and will help in getting Uttarakhand out of crisis," he said
Among those present at the rally were also Punjab Chief Minister Parkash Singh Badal and BJP leader Shanta Kumar.