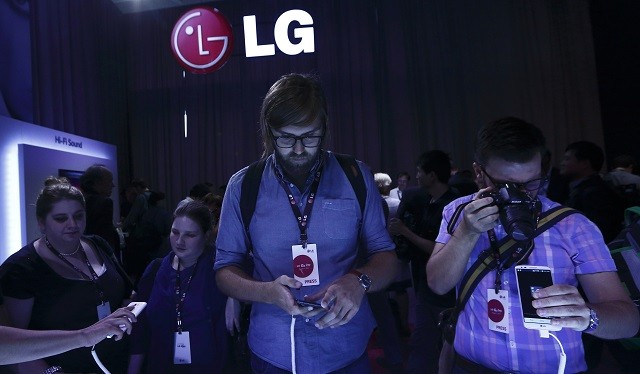 By now everybody knows that world smartphone leader Samsung is almost certain to announce the company's 2014 flagship phone Galaxy S5 later this month. However, a report has now surfaced, stating that the South Korean company's local counterpart LG is prepping to launch their new feature-rich marquee phone G3, touted as the Galaxy S5 slayer, soon.
The Korean arm of the popular technology blog ZDNet has revealed that LG would announce the 'Galaxy S5 killer' smartphone G3 in May, almost three months prior to the year cycle completion of its predecessor G2, which had got unveiled in August 2013.
LG's new marquee phone is pegged to boast a bigger screen - 5.5-inch QHD (aka 2K) 2560x1440p display resolution - and pack the company's in-house built Octa-core CPU code-named Odin, a 16.0-megapixel camera with OIS (Optical Image Stabilizations) and fingerprint sensor-based biometric technology for secured screen locking. Other details like RAM and battery capacity are yet to be ascertained but are said to be superior enough to compete neck and neck with Samsung Galaxy S5.
In late 2013, both Samsung and LG had a similar showdown when they launched the industry's first flexible screen smartphones - Galaxy Round and G Flex. Though Samsung won the race in launching the first curved smartphone ahead of LG, the latter had the last laugh as the company's innovative true-flexible phone heaped lot of praise from tech pundits for its innovative self-healing back cover (can recover daily wear and tear scratches in seconds).
LG's G Flex went on to get released in multiple global markets in Europe, North America and even in India, whereas its rival Galaxy Round stayed put in its home market. Now the battle between the local rivals are set to reach a new level in a few months time.
LG is expected to pull the wraps off its flagship phablet G Pro 2 on 13 February, while rival Samsung is hosting an 'Unpacked 5' to unveil the Galaxy S5 on 24 February. Both devices are expected to be showcased at the upcoming MWC (Mobile World Congress) 2014.