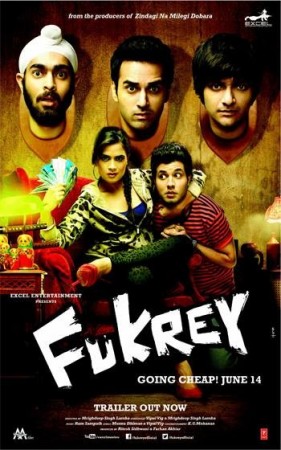 Comedy film "Fukrey" directed by Mrighdeep Singh Lamba of Teen Thay Bhai fame has opened up to positive response from film critics.
The film, produced by Farhan Akhtar and Ritesh Sidhwani, doesn't have any big stars but has impressed critics with its fabulous storyline. The film is about three college friends - Pulkit Samrat, Manjot Singh and Ali Fazal. It also features "Gangs of Wasseypur" actress Richa Chadda, Vishakha Singh and Priya Anand in lead roles.
Below are some critics' reviews:
Ananya Bhattacharya of Zee News writes: "Released under the banner of Excel Entertainment - Farhan Akhtar and Ritesh Sidhwani being the faces that the public see - 'Fukrey' is one hell of a laughter ride. In this age of cheesy and cheap comedy which the Hindi film industry is now so (in)famous for churning out, this one - 'Fukrey' - despite shouting out 'Going Cheap June 14', is thankfully not so. The film is packed with neat amounts of laughter-inducing funny moments and one does not have his/her attention wander off for even a fraction of a second.
"All said and done, there are a few points in the narrative when the story loses its pace, but regains the tautness very quickly, thankfully. The music is enjoyable with numbers ranging from peppy to soulful. The essence of Delhi - from the narrow bylanes where Hunny and Varun spend their evenings cycling and staring at women to Lali's sweet shop have been captured beautifully.
"Watch 'Fukrey' if you crave for generous dollops of laughter to colour your weekend up... Go cheap! Three and a half stars for Mrighdeep Singh Lamba's handiwork!"
Charu Thakur of IBNLive.com writes: "Bollywood directors have found their new love in bromance and Mrigdeep Singh Lamba is no different. His new film 'Fukrey' is a story of four friends or fukras (jobless people) who aspire to enter college and constantly day dream about the same.
"But unlike the other directors, Mrigdeep sets his film in the bylanes of Delhi and manages to bring in four fresh faces as the lead star cast. A few films old, Pulkit Samrat, Manjot Singh, Ali Faizal, Pankaj Tripathi and Priya Anand are the faces of Delhi's fukras in 'Fukrey'."
Taran Adarsh of Bollywood Hungama writes: "FUKREY mirrors the mindset of the youth of today who look for shortcuts to raise funds and attain their targets/dreams. However, unlike the aforesaid movies, this one makes no political statement, nor does it tackle larger than life issues. Although the premise/subject material may give an impression that it's a serious fare, the director and writers Vipul Vig and Mrighdeep Singh Lamba strike a fine balance between solemn and humorous. Frankly, the objective is to keep the spectator amused and FUKREY succeeds in this endeavor largely!
"The best thing about FUKREY is its casting and by zeroing on relative newcomers for the principal leads, the makers steer clear of the baggage of image that reputable actors, generally, cart on their shoulders. Besides, FUKREY comes across as a renaissance for Mrighdeep, who faltered in his directorial debut TEEN THAY BHAI. This time, the screenplay moves fast and furiously, the escapades are wild and wacky and the pacing is just right. In fact, the writing is the biggest strength of the enterprise. Dialogue are witty and mirthful.
"On the whole, FUKREY is a twisted and delectably uproarious take on the shortcuts the youth of today indulge in. Watch it for the sheer novelty and uniqueness it lays on display. Recommended!"
Madhureeta Mukherjee of The Times of India writes: "Manjot's knack for poker-faced comedy is commendable. Debutant Varun is a surprise package; he steals the show with his spontaneity and uproarious antics. Pulkit pulls off the smart-ass act with confidence, Ali stays sober throughout. Richa is feisty and fires gallons of gaalis with aplomb. Priya and Vishaka breeze through their bits.
"Mrighdeep infuses comedy throughout, subtle and fresh. The humour is finely spun in the writing and dialogues (Mrighdeep, Vipul Vig). There's levity in the language and some hilarious moments. The first-half is slow-paced, but it rips riot soon. The story has newness, but at times it lacks the chaotic craziness that such a comic premise can unfold.
"Yet, the laughs are many to keep you entertained. So what the 'fuk-rey', go, crack up on your seats."
Shilpa Jamkhandikar of Reuters writes: "Mrighdeep Singh Lamba's "Fukrey" falls in the same mould - the story of four young men who come up with a convoluted idea to get rich, so that three of them can get into the coolest college in town, knowing all too well they can't get through on merit.
"Lamba peppers his film with smart lines and extracts good performances out of almost all his cast members. Varun Sharma as Choocha, the bumbling, garrulous friend who panics at the slightest crisis is particularly noteworthy, as is Manjot Singh as Lali. Richa Chadda also revels in playing the female gangster and shines in a small role.
"Lamba loosens his grip on the proceedings at several places and the script does waver sometimes, wasting time in love stories and other sub plots the film could have done without. Nevertheless, it all ties up in the end and works as a film that's fun to watch. Ram Sampath's music also sets the right tone.
"Fukrey" doesn't have any big stars or glamour, but it's worth the effort."