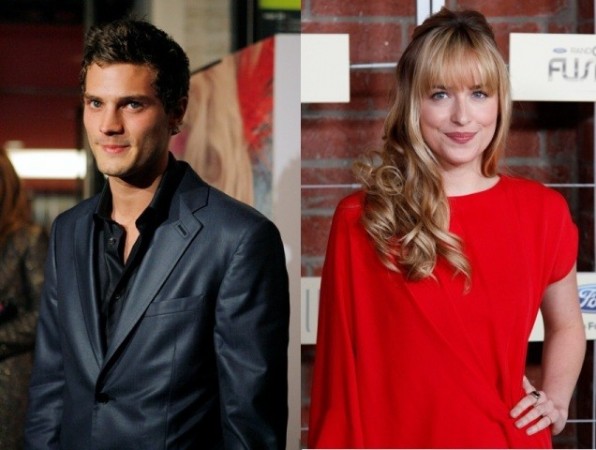 The first look of the overly hyped "Fifty Shades of Grey" has been released by Entertainment Weekly as Jamie Dornan and Dakota Johnson pose as the kinky couple for the cover of the magazine.
The movie adaptation of E.L. James' erotic novel "Fifty Shades of Grey" is undoubtedly one of the most hyped films of this decade. Every small rumor or news related to the film has been making headlines, ever since it was revealed that the novel would be made into a film.
The casting for the film garnered its fair share of controversies when fans' favorite celebrities were not roped in and unexpected names bagged lead roles for the film. If that wasn't enough, Charlie Hunnam, who was the first choice for the role of Christian Grey backed out within a week of being announced as Christian Grey. Actor Jamie Dornan was then roped in for the film with Dakota Johnson playing Anastasia Steele.
Now, after months of anticipation, fans are finally being treated to the first glimpse of what to expect from the "Fifty Shades of Grey" movie. Entertainment Weekly released a set of pictures, one of which will be the cover of the magazine's December issue. In the pictures, Dornan and Johnson are seen hugging each other while they pose as the kinky couple.
In an interview with the magazine, Dornan opened up for the first time about his feelings when he got the call for the movie casting.
"I was sort of pretending I wasn't waiting, but the phone was in my hand halfway to my ear," the actor said, saying he got the call at 1:30 a.m. while he was watching reruns of Storage Wars on TV.
Dornan describes himself as a "fairly liberal guy" and has no qualms doing the sex scenes the movie demands. Dakota also revealed that she too has no problem with the kinky scenes in the movie but just wants to "look good naked."
In other news, regarding the film, reports have it that Focus Features and Universal Pictures have just pushed back the release date from August 1, 2014 to six months later on February 13, 2015.