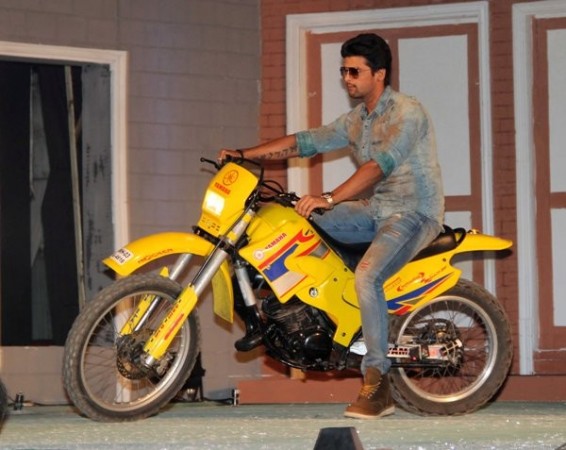 The daunting tasks of "Fear Factor: Khatron Ke Khiladi" season 5 (KKK5) have taken a toll on celebrity contestant Kushal Tandon.
The television actor, who was already under physiotherapy for a shoulder injury, will now have to undergo an operation as his condition worsened.
Tandon performed to a boot camp task on Saturday's episode, which apparently aggravated the injury. The 29-year-old now is set to go under the knife, with renowned doctor Sanjay Desai, who had previously tended to Shah Rukh Khan, taking charge of the procedure. KKK5 host Rohit Shetty referred the superstar's doctor to Tandon.
"The shoulder has been troubling me for a long time and I will have surgery after 10 days. I had a ligament tear in 'Bigg Boss' and during the shoot of 'Khatron Ke Khiladi', it got aggravated because of my last stunt on the show. Rohit Shetty referred me to the doctor who treated Shah Rukh Khan. I consulted him and he finally gave me the date," Tandon told The Times of India.
Despite the injury, the actor won the task, which saw him doing the commando drill. But the task turned out to be his last stunt on the show as he opted out, owing to the injury.
Tandon further revealed that post the operation, he would take at least a five-month break to recuperate. He is then expected to concentrate on his Bollywood debut, for which he has been offered several scripts.
Meanwhile, Ajaz Khan is set to appear on "KKK 5" as the next wild card entry after Tandon's exit. The former "Bigg Boss 7" contestant had earlier claimed that Tandon had left the show because of him.
Tandon hit back in response, stating "Ajaz is a wild card entrant. You will see for yourself that he hasn't been able to do any stunts and will be out in the next two weeks. As for his claims of me being affected by him I don't even want to react. One doesn't react to barking dogs. He is just riding on my fame," reported DNA.