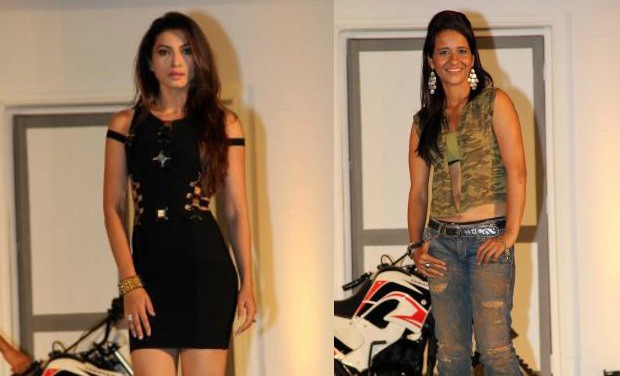 Adventure reality show "Fear Factor: Khatron Ke Khiladi" Season 5 ("KKK 5") witnessed a twist this Sunday with two eliminations.
The usually competitive Gauahar Khan and stunt woman Geeta Tandon surprised the audience as they fared the lowest scorers in the set tasks.
In the first task, Gauahar along with Teejay Sidhu and Debina Bonnerjee had to ride ostriches. While Sidhu stayed on the fast running bird for 12 seconds and Bonnerjee for eight seconds, Khan fell down at three seconds scoring the lowest.
The second stunt which involved the contestants to collect flags set on a high altitude, were to be performed by Gauahar, Tandon, Ajaz Khan and Deana Uppal. The daring stunt was performed adeptly by Uppal, who collected two flags, whereas, Ajaz and Tandon managed to score one flags each. But Gauahar's fear of heights took the better of her as she refused to do the task.
As a result, Gauahar made it to the elimination round along with Ajaz and Tandon who had scored equal in the last round.
The final stunt called 'Deep Freeze' indeed appeared chilling as the trio faced a shower of ice cubes while separating coloured glow sticks accordingly in a set eight minutes time. Ajaz fared the best by arranging 90 glow sticks, followed by Tandon who arranged 70 sticks. And Gauahar yet again scored the lowest with 63 sticks as she quit the task after going numb on her hands and feet due to the chill. She was given immediate medical treatment.
And finally Gauahar and the second-least-scorer Tandon, were eliminated by host Rohit Shetty. The duo follows Dayanand Shetty, Mugdha Godse, Rochelle Maria Rao and Pooja Gor, who have been eliminated in the previous episodes.
(Ed:AJ)