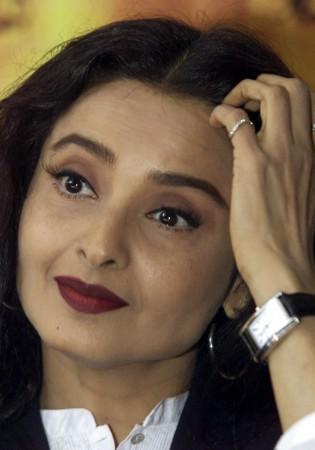 Bollywood actress and Rajya Sabha MP, Rekha said that she was excited to gain a place in the heart of her fans and will continue to entertain them.
"I am too excited to gain a place in your hearts, once again. I hope to bring happiness in your lives like you all did in every moment of my life," IBNS quoted Rekha as saying.
Speaking to a gathering during her first public appearance after becoming a member of Parliament (MP) at a function in Mumbai on Friday night, Rekha also said that she will work with utmost sincerity.
The 57-year-old actress, who made her debut in the Hindi film industry with the 1970 film "Sawan Bhadon", said, "I will continue to entertain you and make you absolutely proud of me."
Following a recommendation letter by Prime Minister Manmohan Singh, President Pratibha Patil approved the names of Rekha, cricketer Sachin Tendulkar and industrialist-activist Anu Aga to the upper house of the Parliament.
Rekha's nomination was welcomed by many celebrities. Actor Amitabh Bachchan, who acted with the actress in various films like "Namak Haraam", "Muqaddar Ka Sikandar" (1978), "Mr. Natwarlal" (1979), "Silsila"(1981), is also among them. He welcomed Rekha's nomination stating as "deserving people."
"In each session of Parliament, President nominates few set of people for Rajya Sabha from the fields of art, film etc. It is an honorary position. Whoever is nominated for this (Rajya Sabha) are deserving people," Amitabh told reporters in Mumbai during a promotional event of his upcoming film "Department".
However, the nomination of Sachin seems to provoke some irks among some political and social classes.
Shiv Sena supremo Bal Thackeray came out against the nomination of the Indian ace cricketer saying "It is Congress's dirtiest play...the real Dirty Picture is this."
Expressing his displeasure over Sachin's nomination to the Rajya Sabha, Thackeray warned Sachin in an editorial in Saamna, Sena mouthpiece, to restrict himself to cricket instead of making political statements.
Bollywood actor Sanjay Dutt also criticized Sachin's nomination to the upper house saying, "It is an honour to be in Rajya Sabha. I am a die-hard fan of Sachin...he is a pride...jewel of India. But I am not happy that he is a Rajya Sabha member....he should have been the way he is."
However, actor Rahul Bose congratulated Sachin on his nomination saying "the nomination is a tribute to both, Sachin and the upper house."