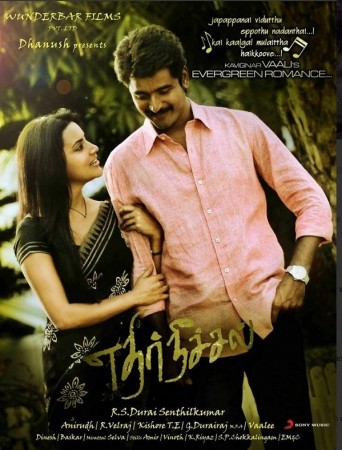 Television anchor-turned-actor Siva Karthikeyan is back in the limelight with his new film "Ethir Neechal". The film, which was released on 1 May, has received positive reviews from critics.
Directed by Vetrimaran's assistant RS Durai Senthil kumar, "Edhir Neechal" has an ensemble star cast that includes Priya Anand, Nandita, comedian Sathish, Manobala and Jayaprakash.
"Ethir Neechal" is a romantic-comedy entertainer that has all the ingredients of a commercial film. The hero, Siva Karthikeyan, is named Kunchithapatham by his parents. His unique name becomes the butt of joke and ridicule for others. He relates his failures to his name and wants to change it. He meets an astrologer who is popular in giving fancy names that could bring luck to people. His named his changed to Harish and soon after his luck changes.
He meets Geetha (Priya Anand), a school teacher, and falls in love with her. All goes well until his lover finds out his original name. Geetha advises Kunchithapatham (aka Harish) that there is nothing in a name and motivates him to develop self confidence so as to achieve success in life.
The hero changes his mind and works towards making it big in life. He discovers that he is good at sports (runner) and decides to take part in the Chennai marathon and gets training from Valli (Nandita), who is a former national athlete. The rest of the film's story is about how the hero swims against all odds and achieves success.
Despite having a wafer-thin storyline, "Ethir Neechal" works well thanks to Siva Karthikeyan's one-liners and comic timing. The film is produced by actor Dhanush's Wunderbar Films. The popular south star makes a special appearance alongside actress Nayanthara in "Sathiyama Nee Enakuu" song. The film's score, which is composed by Anirudh of "Kolavei Di" fame, has grabbed a lot of attention.
Here is what the critics have to say about "Ethir Neechal":
According to Behindwoods Review Board, "Ethir Neechal provides a wholesome package which combines elements like comedy, romance, hardship, inspiration and ultimate fruition in the end. The first half is mostly a breeze thanks to the situations arising from the hero's unique name and his efforts to change it. There is a whole lot of wordplay involved such as Kenayan being addressed as K9."
According to Prashanth Reddy of Desimartini.com, "Ethir Neechal is a film about taking control of life and finding comfort in one's own skin. Or so I think. It starts off like any other Tamil comedy which we see these days, but post-interval it becomes an all-out sports film. While it searches for a link to connect its two halves, Ethir Neechal is basically two different films, split right down the middle."
Heaping praises on the film's lead cast, Indiaglitz.com said, "Post Kedi Billa Killadi Ranga, the million dollar question remained, if Siva can maintain his hero fame? Will he be able to cope up with Kollywood's critical acting? Ladies and gentleman, we have a brand new Siva here. Whistles and shouts for his screen presence apart; Siva is a delight to watch with his witty grasp of humor and some wonderful acting.
"Elsewhere the two leading ladies fit neat into their roles. Priya Anand is cute looking and the onscreen chemistry between Siva and Priya seem to be clicking well! However disappears after the first half only to enter later on. Nandita grabs the meaty role of a trainer and is quite good at it."
According to Moviebuzz, "It is an out and out Sivakarthikeyan film and he is superb. He shines in comedy as well as emotional scenes. Priya Anand has nothing much to do, but is adequate for the role. Satish (Marina fame) who comes as hero's friend is simply too good and brings the house down with his one-liners."
Several prominent personalities from the Tamil film industry have appreciated the film on Twitter.
Actor-cum-producer Udhayanidhi Stalin tweeted, "Edhirneechal! Super opening nd v gud reviews! Congratz Edhirneechal team."
Director Selvaraghavan tweeted, "After a long time I am so impressed with an actor. His body language and timing is superb. Enjoyed ur work in ethirneechal @Siva_Kartikeyan."
Entertainment industry tracker Sreedhar Pillai tweeted, "#EthirNeechal - +Basic story, packaged 2 provide maximum laughs, awesome music & BGM by @anirudhofficial - After racy 1st half pace slows."
Music director G V Prakash tweeted, "Congrats @Siva_Kartikeyan @anirudhofficial @actorsathish and director durai senthil kumar on the super hit of ethir neechal !!"
Verdict: Paisa Vasool rom-com entertainer