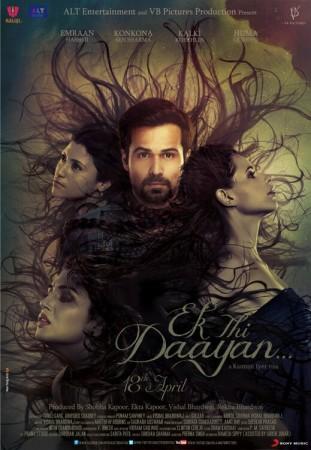 Supernatural film "Ek Thi Daayan" (There Was a Witch) was finally released on Friday. The horror flick produced by Ekta Kapoor and Vishal Bhardwaj has garnered positive reviews upon its release.
Kannan Iyer's directorial film features Emraan Hashmi, Konkona Sen Sharma, Huma Qureshi and Kalki Koechlin in lead roles. "Ek Thi Daayan" is not a regular horror film; its plot is different from other Bollywood flicks in the same genre.
The film's story revolves around a "Daayan" (witch) and a magician Bobo (played by Emraan).
Critics have appreciated the storyline and actors performances. Emraan Hashmi's role has been particularly commended.
Check what critics have to say about the film:
Sneha May Francis of Emirates 24/7 writes: "'Ek Thi Daayan' piggybacks on the unimaginative spook fest staples - screeching women, dolls, little girls with curly locks, noisy lizards, creepy watchman and creaky elevators - even tipping us with an eerie crescendo every time the evil readies to strike.
"There are paranormal activities that might credit a scream but those are far too few to leave an impression.Director Kannan Iyer does nothing out of the ordinary to capture the sinful nocturnal escapades.
"While the first-half, almost entirely, is in flash-back, with writers Vishal Bhardwaj and Mukul Sharma delicately exploring the past of a troubled child and a bit of his successful present, the second half delves entirely in piecing together the mystery.
"Despite unveiling the mystical world of the unknown, through haunting images and intriguing characters, the writers are unable to set the pace till the end.
"'Ek Thi Daayan', despite its many flaws, is endurable because of some fine performances."
Raja Sen of Rediff writes: "Kannan Iyer's Ek Thi Daayan, based on a short story by Mukul Sharma, avoids the usual set of Bollywood cliches about tanktriks and shraaps -- all that bhootiyapa, if I may -- to introduce us to fear through a child's eyes.
"The line, between what we actually believe and what is conjured up by the feverish imagination of a young boy desperate to believe in legends, is blurred very effectively, and that is what makes this film so cleverly creepy, so intelligently eerie. It is, in many ways, a children's film populated with grown-up scares. And for this originality it deserves applause.
"The mood is set with the opening disclaimer, one that assures us that the film isn't intended to promote witchcraft. Okay then. The opening credits are seriously old-school, bassnotes thumping through faded green images of Bombay with Rekha Bhardwaj singing a song that wouldn't be out of place in Mahal.
"This entire first-half -- while sounding like a great backstory for an over-committed barber with highly fetishised ponytail-hatred -- is excellent. The narrative is constant, thrilling and filled with tiny detailing, supported by uniformly great acting and sharp, neat writing.
"Ek Thi Daayan isn't a truly scary film -- though it will provoke nightmares in the young, and I strongly recommend all parents keep their children away from this one."
Meena Iyer of The Times of India writes: "A young boy is obsessed with the occult. As he grows up, he takes his obsession to giddy lengths-often letting the lines between reality and fiction blur.
"When you meet the unassuming, bespectacled Kannan Iyer in person, you will never guess that he's the man who has served up one of Indian cinema's taut supernatural thriller's Ek Thi Daayan. It's piping hot (it's got Emraan Hashmi--who calls himself a tiger in bed), terribly scary and yet it's aesthetically garnished.
"You find yourself biting your nails in nervousness and digging your heels hard into the carpet in the cinema hall as this spook-fest unfolds.
"Woven beautifully between the world of magic, occult and suspense, Ek Thi Daayan, makes for compulsive viewing, providing some spine-chilling thrills at short gaps. The narrative in the first half is almost faultless. There are some nice romantic moments between the lead pair Emraan and Huma and a couple of songs too. But just when you start to relax and flow with the emotions, along comes a scary twist that jolts you back to the edge of your seat. The climax is a bit stereotype of horror/supernatural thrillers but that's a minor hiccup in an otherwise cleverly done film of this genre.
"Kannan Iyer makes an impressive debut...and kudos to Ekta Kapoor and Vishal Bharadwaj for allowing him to bring his daayan to life without compromises. This film doesn't play to the galleries nor is it one of those brain-dead movies that Bollywood churns out as assembly line.
"Note: You may not like the film if transcendental stuff doesn't move you."
Taran Adarsh of Bollywood Hungama writes: "EK THI DAAYAN may come across as yet another fare that talks of ghosts/witches, occult and the likes, but it is, perhaps, the first Hindi movie that presents witchcraft most realistically. Also, it's one of the most eerie experiences to unfold on the Bollywood screen.
"Our country is pierced with superstitions, fallacies and erroneous beliefs. We have heard tales of witches. Myths such as daayans can be good looking, their feet are turned inwards, their power lies in the plait [choti], so on and so forth end up making the spectator believe in stories surrounding evil, paranormal, supernatural and mystical powers. EK THI DAAYAN makes you react to the rituals/practices that have existed since time immemorial, but, I'd like to elucidate, it does not glorify the practice. Intense and scary, EK THI DAAYAN is positioned in today's times and the folklore of a witch, integrated smartly in the screenplay, makes it a fascinating cinematic experience.
"There is something out there that is inexplicable, that is beyond the realm of human comprehension that EK THI DAAYAN taps grippingly. First-time director Kannan Iyer steps forward to offer something radically different in this genre and for those who believe in daayans -- even those who don't -- will take to the plot instantly because Kannan's storytelling is lucid and graspable.
"On the whole, EK THI DAAYAN is an imaginative and appealing supernatural thriller. The film is placed in a relatable world, with myths about witches expertly intertwined in its absorbing screenplay, something which a spectator can effortlessly identify with. Exceptionally novel and attention-grabbing, it's a first of its kind. Watch it for the sheer novelty it puts on display in its genre!"