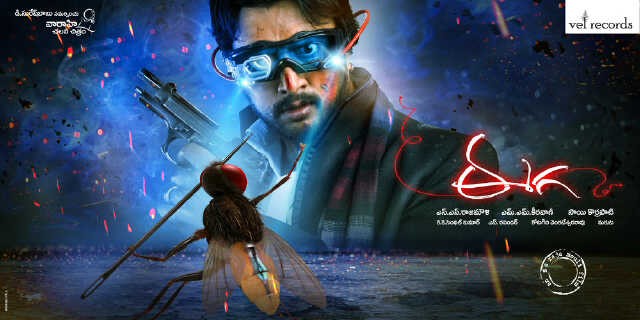 S. S. Rajamouli's latest offering "Eega" (housefly) is a delightful entertainer for all audiences, with the story grabbing one's attention at the beginning while maintaining the throttlehold throughout the end.
Even after leaving the theatres, the ongoing buzz of 'Eega' and the roar of Kiccha Sudeep will continue to prevail inside one's head.
Director Rajamouli has delivered a slew of hits in the past. One of his blockbuster movies "Magadheera" involved a portion of graphics in a fight scene, in which the protagonist-warrior takes on an entire army and makes a vow to his queen to slay hundreds of his enemies before he slips to death.
However, Rajamouli's "Eega" is a graphical extravaganza, in which the ace director made extensive use of computer graphics and technology at its best. The movie was dubbed and released simultaneously in Tamil as "Naan Ee".
The story is narrated by a father to his young daughter while putting her to bed. While the story plot, which revolves around the hero, a heroine and a villain, is not something unheard of, the unique presentation that Rajamouli has strived to achieve in the movie is what left the audiences astounded.
The plot deals with reincarnation, love and revenge. The villain played by Sudeep, is a powerful businessman and a womanizer, who kills Nani, lover of Samantha, in a fit of jealousy and lust. However, in a bid to save his love and seek revenge, Nani reincarnates as a housefly and hunts down his murderer Sudeep.
It's delightful to see the protagonist-housefly's actions on torturing and taking down Sudeep, who indeed steals the show with his excellent performance in a negative role for the first time. Moreover, he also dominates the film throughout the run and mouths a few dialogues in Kannada much to the delight from his local audiences. His acting skills have certainly gone a notch up in this movie.
Samantha, who plays Bindu, is a beautiful micro-artist in the movie. As an ardent lover of her slain boyfriend, Samantha later joins the mission to kill Sudeep, after having heard from the housefly about the truth behind her lover's death and the villain's desperate attempts to own her.
As a micro-artist in the film, Samantha designs mask, goggles, and weapons for the housefly to battle its enemies and bump off Sudeep.
Despite his moderate screen time in the movie, Nani adheres to one's mind for his youthful performance and his undying love for Samantha.
On the whole, the movie is refreshing, enjoyable, and an absolute a treat for children besides adults. If your first priority is entertainment, then "Eega" certainly fits the bill.
Director: S. S. Rajamouli
Cast: Sudeep, Nani, Samantha, Srinivas Reddy