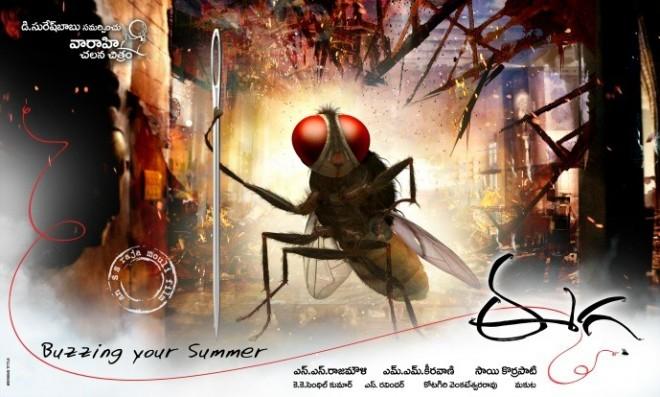 "Eega" (housefly) has been creating a lot of buzz in the Indian film industry since its release last week. Besides, rocking at the worldwide box-office, it is drawing loads of appreciations for ace South Indian director, Rajamouli.
"Eega" opened to packed houses in 1200 theatres across South India and was released in the U.S. in limited screens. The movie is making its makers to rack up the moolah at local markets, while running a decent business in the overseas.
According to industry sources, the first week worldwide collection of the movie crossed Rs 500 million, hinting at the possibilities of it joining the billion club (Rs 1000 million).
Eariler, amazed by the movie, film maker Ram Gopal Varma opined that it would collect about 1 billion (Rs 100 crore) within the state, "I think "Eega" will be the first film to start the 100 crore club in Telugu industry..in other words I mean it will collect Rs 1000 million in Telugu alone."
Many hit movies of Rajamouli have been remade in Hindi and did well at the box office. His movie "Vikramarkudu" was dubbed and released last month as "Rowdy Rathore", starring Akshay Kumar in the lead role.
"Rowdy Rathore" joined the top grossing Bollywood films list just a few days after its release. It's the biggest opening for Bollywood Khiladi Akshay, who is currently acting in "Son of Sardar", a remake of "Maryada Ramanna", another bolckbuster movie by Rajamouli.
Actor-turned-politician Chiranjeevi has also congratulated the sensational success of Rajamouli's graphical extravaganza, describing "Eega" as "the pride of Tollywood."
Rajamouli via his twitter page shared his conversation with Chiranjeevi, saying he was "thrilled" to hear from the Telugu superstar about his movie ("Eega").
He tweeted, "Chiranjeevi garu called. Boy am I thrilled!!! Actually he texted me 2 days back from a new number and I ignored it thinking it was some fake name. I felt very bad but he just brushed it off. "Eega is the pride of TFI" are his words.. Flying higher and higher...:)"
At a time, when Bollywood superstars are searching for good stories down south, especially in Telugu film industry, "Eega" will indeed bring in a barrage of opportunities for South Indian directors and artists to make their mark in Bollywood.
Earlier, well-known director Ram Gopal Varma (RGV), heaped praises for "Eega" on his twitter page.
He tweeted, "Just saw Eega and I think @ssrajamouli should tweet his feet for everyone to touch them!" He also praised Sudeep, "@kicchasudeep in Eega is so fantaaaaastic that its difficult 2 describe in words..always believed that he's great but he surpassed my imagination."