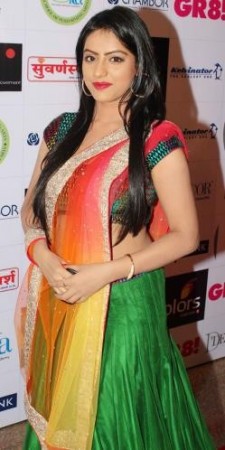 Actress Deepika Singh aka Sandhya of "Diya Aur Baati Hum" ("DABH") fame has got engaged to her fiancée Rohit Raj Goyal.
Goyal, who is the director of "DABH" exchanged rings with Singh on Thursday amidst friends and family. Neelu Vaghela better known as "Bhabo" in the fictional soap was also present in the ceremony.
Singh and Goyal will tie the knot on Friday, 2 May.
The couple's actor friend Neil Bhatt shared photos of the engagement ceremony.
The ring ceremony:) I'm so happy for my friends! ! pic.twitter.com/mePuwdeA0t

— neil bhatt (@neilbhatt4) May 1, 2014
Wishing my friends deepika and rohit a very happy and colorful life:) pic.twitter.com/zFR3inJMLB — neil bhatt (@neilbhatt4) April 30, 2014
For the wedding on Friday, Singh would deck up royally as she would don a wedding trousseau styled in the likes of Rajput tradition.
"Keeping the Rajput tradition in mind, the colours and the embroidery are very royal. The ensemble is made of striking bright red with lots of pita embroidery to give it a contemporary feel. The embroidery is also strategically placed to enhance Deepika's petite frame. The red hues with Swarovski highlights, makes it every girls dream wedding outfit," the actress' designer, Salima Lalani told Deccan Chronicle.
Singh in an earlier interview with the daily had revealed that the wedding will not be a grand affair, but a simple ceremony with a few guests.
The actress had also let out that she and Goyal were working overtime to shoot episodes in advance before taking leaves for their marriage.
"Since we both will have to take a few days off for the wedding, we're shooting overtime and finishing off as much of the track as we can in advance. It's been very hectic."
(ed:AJ)