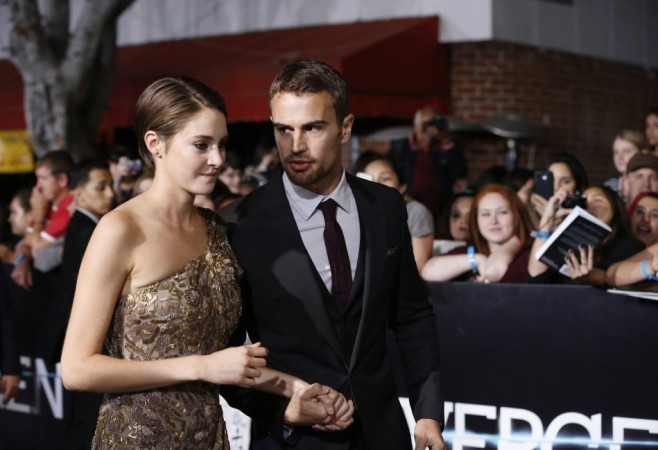 Rumors are rife that "Divergent" co-stars Shailene Woodely and Theo James have come closer in real life. Buzz suggests that the co-stars, who share massive chemistry onscreen could be an item off screen too. Woodley and James sparked dating rumors when they couldn't stop talking about the big kissing scene they share in the film.
When in an interview they were asked about the practice they did for the intimate scene, Woodley gushed: "Theo came over every night for two months beforehand," reported Sugarscape.
"I was constantly knocking on her door," James added, laughing.
What has added more fuel to the fire is the fact that these days James is rarely seen with his girlfriend Ruth Kearney. Since the massive success of the film, Woodley and James have been spotted together at every event and though it could be for the promotion of the film, fans have a strong feeling that something is brewing between the two.
Apparently, during the premiere of the film, James could not keep his eyes off Woodley. As the 22-year-old actress dazzled in golden Ellie Saab gown, James was spotted casting admiring glances at her. The on-screen pair also cozied up while posing for the shutterbugs and looked more than comfortable in each other's company.
Though there is no confirmation whether the couple is dating or not, nobody can deny the affection they have for each other. Fans have already imagined Woodley and James romancing in real life and many of them even took to Twitter to express their feelings:
cinthia . ♡ @cinthiabieber_wrote, "Can Theo James and Shailene Woodley just date already?"
Ariane Nuñez @arianepaulette wrote, "Theo James and his girlfriend Ruth Kearney. They have been dating for 5yrs... But but.... I ship Theo and Shai"
@Mallari, wrote, "YES THEY'RE PERFECT FOR EACH OTHER "
(ED/VS)