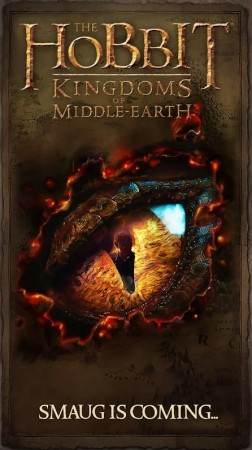 Fans of "The Hobbit" series and its free-to play mobile game, "The Hobbit: Kingdoms of Middle-Earth", will be excited to find that a new expansion titled "Desolation of Smaug" in the existing game has been released for Android and iOS platforms.
The new expansion comes a week ahead of the release of Peter Jackson's second part of "The Hobbit" trilogy which also carries the same title - "The Hobbit: The Desolation of Smaug". This is based on JRR Tolkien's 1937 novel "The Hobbit" and the first film in the installment was 2012's "An Unexpected Journey." "The Hobbit: The Desolation of Smaug" is expected to be released on 13 December and is one of the most eagerly awaited films that continues Bilbo Baggins's journey into Mirkwood forest and to Lonely Mountain.
Players will be able to summon their heroes, train and arm the forces to battle against the dragon Smaug. They will also be able to earn crafted armour sets and specialised weapons. One can also start a fourth city that will unlock Beorn and Tauriel.
The combat strategy game that is developed by Kabam offers players the role of either Elf or Dwarf. They can build cities and destroy the Goblins. The game also has thousands of players for online multiplayer action. Players can also plan their strategy in real-time via chats. They will meet Bilbo, Gandalf and others. Heroes like Lgolas and Thorin can be roped in to lead the troops.
Craig Schofield, a fan of the game, reviewed the game and posted a comment on Google Play Store saying, "Awesomely Addictive I never thought I would get so addicted to a video game, but I have! If you enjoy building cities and kicking your neighbors butt, you're gonna love this game!!! Not to mention all of the great people you will meet!"