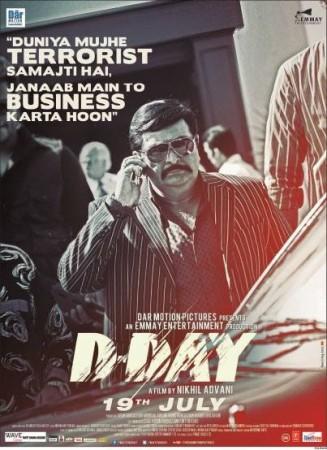 "D-Day" starring Arjun Rampal, Shruti Haasan, Rishi Kapoor and Irrfan Khan witnessed a poor show on the opening day, earning only about ₹2.50 crore.
The film directed by Nikhil Advani and produced by DAR motion pictures and Emmay Entertainment, didn't do well at the box office on day one despite good word of mouth. It reportedly had a slow start on Friday before picking up at multiplexes in the evening.
"After a slow start, #DDay has picked up across multiplexes in evening/night shows. Word of mouth is super-strong!" tweeted trade analyst and film critic Taran Adarsh. He added that "D-Day" earned about 2.25 crore to 2.50 crore on the opening day.
"D Day" is a crime thriller about four Indian agents who are on a mission to arrest a don named Iqbal Seth, played by Rishi Kapoor, from Pakistan. It also features Huma Qureshi and Sandeep Kulkarni in the lead roles besides Arjun, Rishi, Shruti and Irrfan.
The film got rave reviews from film critics with many applauding the makers of the film for the flawless plot and solid performance from the cast.
"Nikhil Advani's sixth feature film is an acutely accomplished work of art. It's a thriller, yes. About the enforced extradition of a Dawood-like gangster," Subhash K Jha had wrote in his review. "This is a film with world-class action scenes. But it is not an action film. It's a film about love and loss. But it isn't a love story."
"Straight up, "D-Day" is explosive at three levels. The plot crackles. The acting sears. And the music flares with passion," Srijana Mitra Das of Times Of India wrote. "You may not like this movie if you don't enjoy violent thrillers where things go off with a bang."
The makers of "D-Day" will expect the good word of mouth to pull the crowds to the theatres in the weekend.