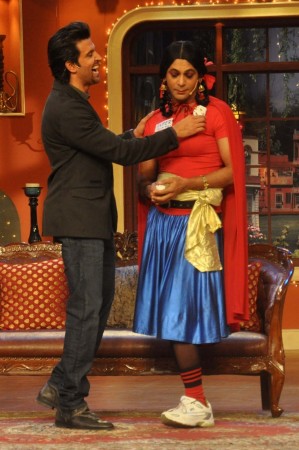 Sunil Grover, who iconised the character of "Gutthi" in "Comedy Nights with Kapil", is all set to don a similar character, named "Chutki", in a comedy show of his own.
As per reports, Grover - essaying "Chutki" - will have similar look of that of "Gutthi" but with a fresh appeal to it.
"The get-up and body-language would be similar but not identical. Sunil Grover and the channel want to give a fresh identity to Sunil Grover's show. They don't want it to look like a carryover of Kapil Sharma's show," PTI quoted a source.
The show, which is set to be aired on Star Plus, will have markedly different gags, compared to Kapil's show.
The source added that Grover's show will not look to compete with CNWK. It is set to be placed at an early time slot, as opposed to CNWK's 10 pm slot, giving both shows the required space.
Grover's "Gutthi" had come under the legal spotlight as Colors channel issued a public notice on the reproduction of the same, claiming the character is the sole property of the channel. The channel's claims were played down by Grover as the comedian stated that "Gutthi" was derived from a general character which he had devised.
A promo for Grover's upcoming comedy show in Star Plus has also been released. The brief teaser shows Grover dressed up as woman, exuding similar attributes to "Gutthi".
Grover's show is expected to be aired from late January or February.