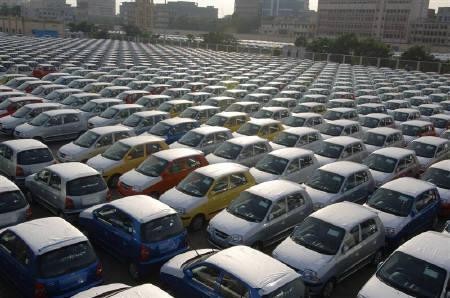 India's auto market has witnessed a slowdown in the past couple of months due to spiralling fuel costs and currency flux. Adding to the blows is the proposal to hike the excise duty of cars, heightening fears among auto makers of a bleak future ahead.
Seeking to revive dwindling vehicles sales in this period, several leading car manufacturers had announced a number of discount schemes for prospective customers.
What came as a surprise among the slew of offers is the 'buy one, get one free' offer announced by a Skoda car dealer in Gujarat. As per this offer, buyers will get two cars for the price of one. To be more specific, customers purchasing a Skoda Rapid Sedan will get a Fabia hatchback thrown in for free.
According to Neelmani Sharma, CEO of Torque Auto, the 'buy one, get one free' offer in Gujarat has helped the company to push for more sales. "We had a deluge of inquiries and sales have been strong since then," Neelmani Sharma told The Times of India.
When asked about the Fabia model running out of stock, Sharma said "The agreement that we sign with the customer mentions that if the Fabia is not there in the market, we will give the customer another model that replaces Fabia."
Skoda is not the only one car to come out with such exclusive deals like. Auto major Volkswagen also introduced a new scheme in which customers can exchange an old model for a new Vento sedan by just making a payment of just ₹1 and without having to pay anything else for the next one year.
"Pay the rest a year later, in full or as 36 EMIs," said Volkswagen.
Auto companies had tried giving similar offers in the past. "In December 2004, Hyundai had come out with a limited-period offer wherein you could buy a Santro for ₹3 lakh, or at least 15-20% cheaper than the prices prevailing then. The company is believed to have got bookings for the next five months in just a few weeks," said Pradip Saxena of the research firm TNS.
Audi India has also announced a special offer to sell its Q Range series that includes Q3, Q5 and Q7 SUVs at pre-budget rates till 15 March.
According to the market analysts, the slowdown in the car market is likely to continue for the next couple of months due to increased fuel rates and high interest rates.