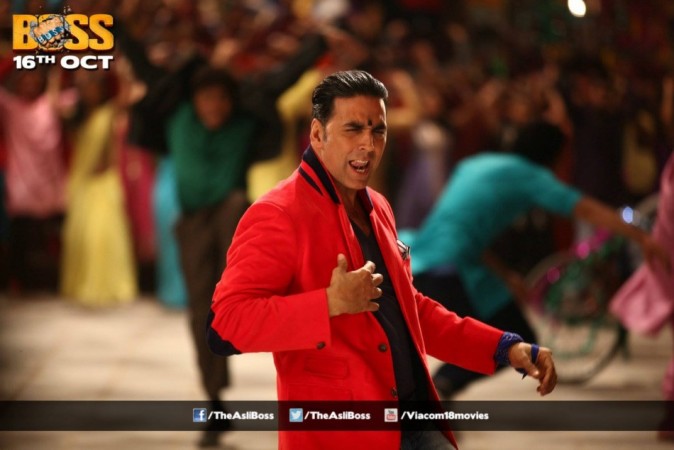 Akshay Kumar's action-masala film "Boss", which released worldwide on 16 October (on Bakr Eid holiday), has received mixed reviews from critics.
"Boss" was one of the most-awaited films of Akshay, as the actor is back with an action-packed role in this masala entertainer. The film, directed by Anthony D'Souza, has released in around 3,000 screens.
Just like "Besharam", Akki's film also has a good advantage at the box office with its opening day being a public holiday in most parts of the country. The long extended weekend and solo release are expected to work in the film's favour.The advance booking has got good response from across the country. However, the film's fate at the box office will be decided after the first weekend.
Apart from Akki, "Boss" also features Mithun Chakraborty, Danny Denzongpa, Johnny Lever, Aditi Rao Hydari, Shiv Pandit and Ronit Roy in important roles.
Check the critics' review here:
Gaurav Malani of The Times of India said: "They say 'the boss is always right'. So when almost everything about the film is wrong, you are still not supposed to question anything. A general viewer reaction to the mediocrity of this film was 'what else do you expect from a film like this?' So with the frequent flow of such unapologetically self-proclaimed mindless action films, our basic expectations are so downsized that even distasteful dishes have turned easily edible.
"Boss is a typical example of 'fast food' flick. The action sequences are tossed in slow-motion while the narrative cooks at breakneck speed. Every ingredient from the stunt shot-takings, villain sidekicks and action directors are reused to repetitive effect. It is simmered with the usual seasoning suspects of Sonakshi Sinha and Prabhu Deva. And finally garnished with Honey Singh songs and redone retro numbers. Yet the base recipe, which dates back to the 80s, is unoriginal and is rather derived from South.
"So once again while on one side it's said that the boss is always right, on the other side not many look up to a boss who is unable to look beyond himself. The choice is yours!"
Taran Adarsh of Bollywood Hungama said: "BOSS is a clear departure from previous Akshay starrers yet it has everything that spectators look for in masala fares -- a daring hero with loads of heroism, the emotional chord between two brothers and their father, a corrupt cop, the fight between good and evil, a tadka of comedy, hummable soundtrack, clap-trap dialoguebaazi, lots of gravity-defying stunts... in fact, BOSS is a fast-moving roller-coaster ride that gives you no time to think.
"The film transports you to the cinema of yore, when the sole motive of a movie was to please, appease, amuse and entertain the spectators and reap a harvest at the BO. This one does that too: It offers entertainment by the bucketful and celebrates the formula with panache.
"Final word? BOSS is *not* for those who find it fashionable to run down masala films. This one's for those who feast on unadulterated, pure desi entertainers with glee."
Nandini Ramnath of Live Mint said: "Anthony D'souza gets director's credit on Boss, the official reboot of the hit Malayalam film Pokkiri Raja, but the only name that matters in the list of credits is Anal Arasu, the action director who comes up with new ways to bash in people's heads, crush their limbs and contort their bodies beyond recognition.
"There's enough bone-shattering violence in Boss to make you wonder about the film's UA certificate. Forget the kids, whose innocence might be lost forever after sitting through over two hours of action sequences strung together in a semblance of a plot, and spare a thought for the grown-ups.
"Akshay Kumar's XXL-sized comic timing serves him well in some of the action comedy sequences, but fitness levels can never replace genuine acting skills. The rest of the cast picks up their paycheques, and only Ronit Roy seems to be making an effort to be serious amidst the clowning. Roy's ability to generate dread, which has already become too pat to be as frightening as it was when first seen in Udaan in 2010, is a wasted effort."
Mohar Basu of Koimoi.com said: "Boss is an exceedingly noisy film and yet is tremendous fun in parts. Vividly conventional, Anthony D'Souza's Boss fits in the unoriginal moulds of Bollywood's recent recipes of masala flicks. However, the overused plot still manages to solidify simply because of Akshay Kumar's panache that makes the film's pulverizing action so delectable. There's no reason why you should miss savoring this tremendously winsome film whose beating to the pulp action will have you from the word go!
"Boss manages to indulge you in a feast of thrilling ugly action and crackling comedy with its crude and rustic premise. The film absorbs you in its tottering plot despite its puerile humor and thunderous action! Somehow even with all its blunders, because of Akshay Kumar alone Boss works. Though at points I found the film horrendously bizarre, I admittedly found myself getting entertained in several parts of the film. The film is worth the price of your ticket compensating well in the enjoyment quotient, the value of every penny you put into this! Akshay Kumar single handedly saves the film from being a sore bore and that is reason enough why Boss deserves a definite shot!"
Saibal Chatterjee of NDTV said: "He repeats that line ad nauseam through the film. Unfortunately, for all the pain that he inflicts on himself and the audience, this boss is never quite right. Boss is an action flick in which both logic and good taste go for a toss from the moment it kicks off.
"The humour is cringingly coarse, the stunts are completely over the top and the emotions never ring true. The film is credited to not one but two screenplay writers. It also claims to have had a script supervisor on board. Wonder what the latter was supervising. If he were really serious about his job description, he would have done a complete rewrite of the material or sent the script where it belongs - the paper shredder.
"Boss, needless to say, is Akshay Kumar's film all the way and there are several moments in it when he comes across as perfectly cut out for such antics. It also has a clutch of old-timers in the cast. Besides Mithun and Danny, there is Parikshit Sahni in a walk-on role."