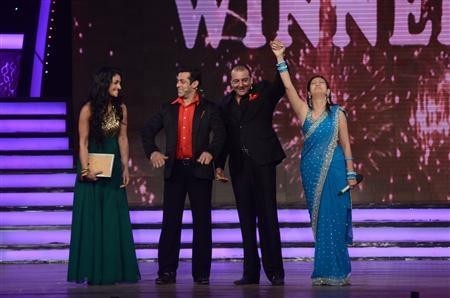 India's most controversial reality show "Bigg Boss" took a new direction, with the upcoming sixth season promising to be more a 'family oriented' show.
According to The Times of India, the new season will do away with all the foul language and back biting, and instead adopt more friendly and positive content. The show will be shifted to the 9 pm time slot from October 7 onwards.
Due to criticism from viewers and the Information and Broadcasting Ministry, a change in format was made.
"Last season, the show got reprimanded by the Information and Broadcasting Ministry for its explicit and at times vulgar content. The timing was pushed from 9 pm to 11 pm. I was hurt," actor Salman Khan, the show's host, told TOI.
"My parents and friends couldn't watch the show because of the rampant fights and abusive language. And doing all this to gain popularity isn't right," he said.
The past seasons made hard-hitting headlines in the entertainment world, with several celebrity participants like Rakhi Sawant, Dolly Bindra, and "Jism 2" fame Sunny Leone, indulging in verbal spats and scandals that left audiences shocked and amused at the same time.
This time, creators of the show will feature common people besides celebrities, and participants will be required to carry out more tasks. Earlier reports said that the new season will be shot in Lonavala instead of Karjat, Mumbai.